Enjoy Peach, Nectarine, and Plum Season at Parlee Farms!
Peaches, nectarines, and plums are the last fruits to enjoy during the warm summer picking season here at Parlee Farms. We harvest 15 varieties of freestone peaches, three varieties of nectarines, and eight varieties of plums that we harvest from early August into mid-September.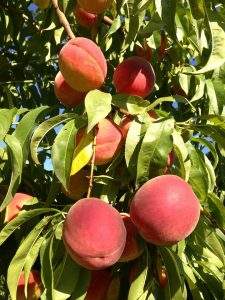 Our peaches are available for pick your own- nothing tastes better than when you pick your own tree ripened peach! The peach orchard is a 5 minute walk from our Farmstand. If you'd prefer, you can also purchase peaches, nectarines, and plums in our Farmstand that are fresh picked at the optimum ripeness so that you don't miss out on the tree ripened flavor!
Here are some peach picking tips:
• Wait until the peach is fully ripe. There should be no green left on the peach.
• The peaches on the top and outside of the tree are usually the first ones to ripen.
• Peaches should come off of the tree easily with a slight twist.
• Peaches bruise very easily, so be careful!
The sign of a great peach is when, after biting into it, the juice runs down your chin!
Once you get your fresh picked peaches home, they should keep for about 5 days in the refrigerator. We hope to see you at our peach orchard soon!
Categorized in: Peaches
This post was written by Parlee Farms