Pick Your Own Apples and More at Parlee Farms near Boston MA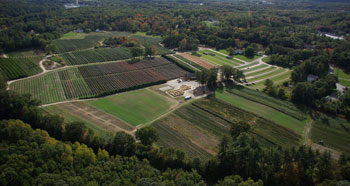 Parlee Farms is in its' 27th Season of providing locally grown fruits, flowers and vegetables. Since 1988, our Boston MA area family farm has specialized in pick your own fruits grown in an environmentally safe way using Integrated Pest Management (IPM) and Advanced IPM Techniques.
What's Happening Today at Parlee Farms?
Check CURRENT PICKING CONDITIONS ~ updated everyday with what is available at the farm including picking hours and prices.
Our Apple Picking Orchard near Boston has over 20 varieties of apples, including Honeycrisp apples, available for picking ~ fourteen acres of dwarf apple trees which are easy for those little ones to reach! In the fall of 2012, Todd Gutner of WBZTV, Channel 4 was at Parlee Farms discussing our apple season and in particular Honey Crisp Apples. You can see the video at Gardening with Gutner.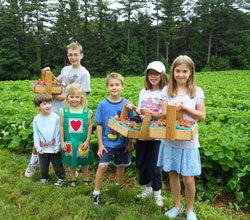 As the first fruit of summer in New England, nothing tastes quite as delicious as a fresh picked strawberry. Strawberries are great in so many desserts and smoothies and what better way to create those great tasting desserts than to included your own fresh picked strawberries from Parlee Farms. Pick your own strawberries are only available for less than one month - mid-June into early July - so we hope you can join us!
If you love blueberries and blueberry picking, our eight acres of high bush blueberries are open for picking in July and August. Blueberries are so versatile and they are great to freeze and enjoy during the long winter months.
Tree-ripen peaches are one of nature's most spectacular treats. Our Peach Orchard is open in August for you to pick your own peaches – sweet, juicy, and flavorful. Cherry Picking is our newest pick your own fruit and is very popular. Our two acre cherry orchard offers fruit picking for about 3 weeks beginning in late June. Who doesn't love fresh flowers right from the garden. In August and September, stop by our Cut Your Own Flower Field to create your own beautiful bouquet. And With over 40,000 pumpkins grown in our 12 acres of Pumpkin Patches, we know you will find that perfect jack-o-lantern at Parlee Farms in the fall.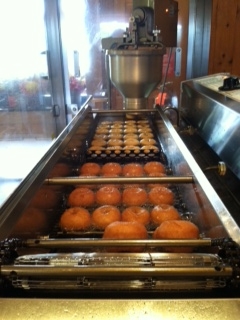 If you don't have time to pick your own fruit, we offer all our fruit as well as our own corn and other local vegetables, in our Farmstand. At Mary's Country Kitchen & Bakery, our dedicated staff creates award-winning APPLE CIDER DONUTS, Old Fashioned Strawberry Shortcake and other fresh fruit desserts. And a day at Parlee Farms is not complete without a visit with our friendly farm animals! Annie's Animal Barns is the home to more than 60 goats, sheep, chickens and bunnies that you can that you can feed and pet.
If you are looking for some of the best locally grown fruit in the Boston MA area that you can pick yourself, we hope that you will consider visiting Parlee Farms!
PARLEE FARMS was named one of the
1000 GREAT PLACES TO VISIT IN MASSACHUSETTS!
What an honor - thank you!
As a reminder:
Always check our CURRENT CONDITIONS or call our 24-Hour Picking Information Line at 978-649-3854 for conditions and availability before you leave home. Thank you and we hope to see you 'down on the farm'!