Today's Farm News
Current Conditions for Saturday, July 24 ~ Peak Blueberry Picking!
We are in PEAK BLUEBERRY SEASON and will have excellent picking into the weekend.  On Saturday, we will have excellent blueberry picking and our flower field will open with gorgeous zinnias available for picking. And in our Farmstand, you can now get our sweet, tender Non-GMO Corn.  Summer is here!
BONUS HOURS:  Since blueberry picking is so good, we are extending our hours on SATURDAY.  See below for details ~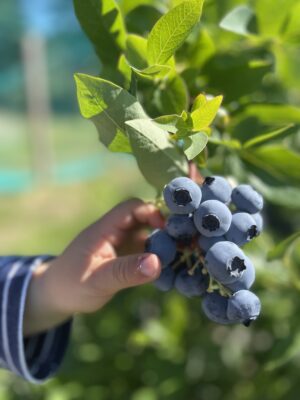 PICK YOUR OWN BLUEBERRIES ~ open Saturday 8am-3pm (last entrance) with excellent picking.  Blueberry season will last until mid-August.  We expect to have picking on Sunday, weather permitting ~ Sunday picking hours will be posted on Saturday. Prices and guidelines are listed below.
CUT YOUR OWN FLOWERS – open Saturday 8:30am -3:30pm (field close time).  Gorgeous Zinnias will be available for picking.  Our other flowers, including dahlias, sunflowers, and gladiolus are not quite ready for picking.  We expect to have picking on Sunday, weather permitting ~ Sunday picking hours will be posted on Saturday.  Prices and guidelines are listed below, as are the Photography Guidelines.
FARMSTAND   (open Saturday 8am-4:30pm, Sunday 8am-1pm) ~ We will have –

our own BLUEBERRIES 
our own yellow PEACHES (limited supply)
our own NON-GMO CORN (come early ~ we have been selling out before noon)
our own farm grown FLOWER BUNCHES,
APPLE CIDER DONUTS and farm made Bakery Items 
our FARM MADE FROZEN BLUEBERRY CRISP,
PIES from Mann Orchards, 
Local Vegetables from Brookdale Farm, 
Jams, Dressing, Honey, local Maple products, and our new line of SALSAS, SAUCES, and MARINADES.
Please bring your reusable bag to bring your Farmstand purchase home.  We will have reusable bags for sale for $0.20 each.

MARY'S COUNTRY KITCHEN (open Saturday 8am-4pm, Sunday 8am-12:30pm) offers our farm made Warm Blueberry Crisp, Old Fashioned Strawberry Shortcake, Ice Cream, Chocolate Chip Ice Cream Sandwiches, frozen Strawberry Lemonade, and more.
BREAKFAST on the FARM! Available 8am-11am (Tues-Sun) at Mary's Country Kitchen. Pastry of the week (Blueberry Twist this week – yummy) with your choice of Coffee (hot or iced) or hot tea for only $5!! Available at Mary's Country Kitchen.

ANNIE'S ANIMAL BARNS  (open Saturday 8am-4:30pm, Sunday 8am-1pm) our goats, sheep, chickens, and bunnies looking forward to seeing you.  We have 20 baby goats that were recently born and our chickens have arrived! You may feed them by purchasing grain from our machines for $0.25.  Please do not bring grain from home.
PICK YOUR OWN PEACHES ~ COMING SOON!
PYO INFORMATION

BLUEBERRY PYO COST:
$11 for a SMALL CONTAINER (about 1.5 lbs) box for 1 person
$18 for a MEDIUM CONTAINER (about 3 lbs) box for a maximum of 2 people
$32 for a LARGE CONTAINER (about 6 lbs) box for a maximum of 4 people
Anyone over the age of 1 is counted in the people count.

FLOWER PYO COST:
$3 admission for each adult and child over the age of 1. Wristband is required for entry into the field.
$14.99 / lb for all the flowers that you pick.  Approximately 15-20 zinnias equals 1 lb.
You may use our scissors and buckets for picking.  We will wrap the flowers in paper for you to take them home.
You may bring your own shears and bucket – we will give you water for the bucket.
PYO INFORMATION and GUIDELINES
PYO Blueberries are sold by the container and prepaid before picking. 
Prepaid Container and Tickets are required to into the field.
Photographers (professional and novice) and their clients are permitted under our Photography Guidelines.  Reservations must be made at least 1 week in advance.
No eating or sampling while in the field.
No reusable bags or personal containers permitted in the field. Please reduce what personal items you need in the field to just the essentials.
You will be directed to an area in the field to pick.
All fruit picked must fit into the container purchased.
Children must be kept close at all times.
Strollers are permitted in the fields.
The fields will close if heavy rain and/or thunder is in the area.
We do not accept reservations for pick your own.
GENERAL INFORMATION
Please see our FREQUENTLY ASKED QUESTIONS page for answers to many questions:
No Smoking anywhere on the Farm
Only Fully Trained Service Animals are permitted on the farm.  Please leave your pets and emotional supports animals at home for their safety and comfort.
When visiting the farm, we are following guidelines from the Commonwealth of Massachusetts.  Masks are optional for staff and guests that are fully vaccinated.  For those that are not fully vaccinated or not vaccinated at all, we strongly encourage you to wear masks while on the farm.  More details can be found at our 2021 COVID Protocols.
We accept MasterCard, Visa, Discover, and US Cash for payment.  There is a $5 minimum for credit card transactions.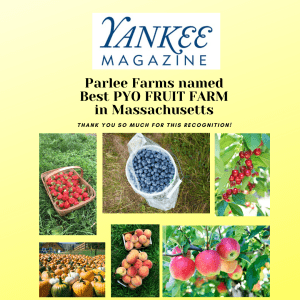 We are very excited that Parlee Farms was named by the editors of Yankee Magazine THE BEST PYO FRUIT FARM in MASSACHUSETTS!  We are so thrilled by this honor.  However, we know that this recognition would not be possible without the outstanding team members who are the face of Parlee Farms and the wonderful customers who have supported us for 34 years.  Thank you!
We can't wait to see you all 'down on the farm' again this season!
The Parlee Family