Today's Farm News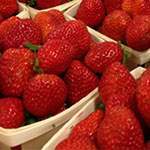 Current Conditions for Sunday, June 16 ~ open 9am-11am
Happy Father's Day!  There will be a break in the rain this morning, so we will be able to pick strawberries for the Farmstand!  The Farmstand will be open from 9am-11am with Strawberries (while they last!), our farm made Scones, and Apple Cider Donuts – perfect gift for Dad!  Annie's Animal Barns are open 9am-11am.  Mary's Country Kitchen & Bakery is closed today and  Pick Your Own Strawberries is closed until later in the week. 
As usual, the entire farm is closed on Monday.  Depending on the weather, we will reopen on either Tuesday, June 18 or Wednesday, June 19.  With rain in the forecast for early next week, we will make a determination on opening date on Monday.  Pick Your Own information will be posted then as well.
We are busy getting our 2019 staff together.  If you would like to join our team, we'd love to have you send us your information!  Please download our EMPLOYMENT APPLICATION.
We look forward to seeing you soon 'down on the farm'!