Today's Farm News
Current Conditions Monday, October 2 ~ as usual, the entire farm is closed on Monday
Thank you to all who visited us recently.  And after a dreary Saturday, it was great to see so many visitors on a picture perfect Sunday!  As usual, the entire farm is closed on Monday for cleaning and maintenance.  However, we will be open next Monday, Indigenous Peoples Day.  Our hours for the coming week are as follows (all weather permitting):
PICK YOUR OWN APPLES & FLOWERS: Tuesday – Thursday 12pm-4pm ; Friday – Sunday & Indigenous Peoples Day 10am-4pm
PICK YOUR OWN PUMPKINS: Tuesday – Thursday 12pm-4:30pm ; Friday – Sunday & Monday Indigenous Peoples Day 10am-4:30pm
FARMSTAND & ANNIE'S ANIMAL BARNS: Tuesday 10/3 – Monday 10/9 10am-5pm
MARY'S COUNTRY KITCHEN: Tuesday 10/3 – Monday 10/9 10am-4:30pm
Please note the later start for PYO on Tuesday through Thursday – it is due to school tours on the farm in the morning.
On Tuesday, the Apple Orchard will be open 12pm-4pm (last entrance)..orchard closes at 4:30pm.  Varieties available for picking will posted the evening before.
We are fortunate to have a full apple crop this season and we will have apple picking available until late October.
APPLE PYO COST: 
$39 for a 1/2 bu  (approx. 20 lb) bag allows entrance for up to 6 people
$28 for a 1 peck (approx. 10 lb) bag allows entrance for up to 4 people
$18 for a 1/2 peck (approx. 5lb) bag allow entrance for up to 2 people (available Tuesday-Friday only)
Hayrides (weather permitting):

Hayrides for for apple pickers available on Saturdays & Sundays for $1.50 per person.
FREE Hayrides for apple pickers on Fridays from 10am-4pm

Anyone over the age of 2 is counted in the people count and required to have a ticket for entrance to the Apple Orchard and Hayride.
CUT YOUR OWN FLOWERS Open Tuesday 12pm-4pm (last entrance) ..flower garden closes at 4:30pm.
The Flower Garden and Sunflower Garden cover 3 acres of stunning Zinnias, Dahlias, Gladiolus, Sunflowers, and more than 20 different fillers .
$3 admission for each adult and child over the age of 5. Wristband is required for entry into the field.
$12.50/ lb for all the flowers that you pick.
You may use our scissors and buckets for picking.  We will wrap the flowers in paper for you to take them home.
BRING YOUR OWN BUCKET and we will take $1 off your pyo purchase! Why?

It will save you a lot of time at check in and check out.
Also, we will fill your bucket with water and your flowers will stay hydrated for the trip home.

The Sunflower Garden will open in September.
Please check out our PHOTOGRAPHY POLICY.  Thank you!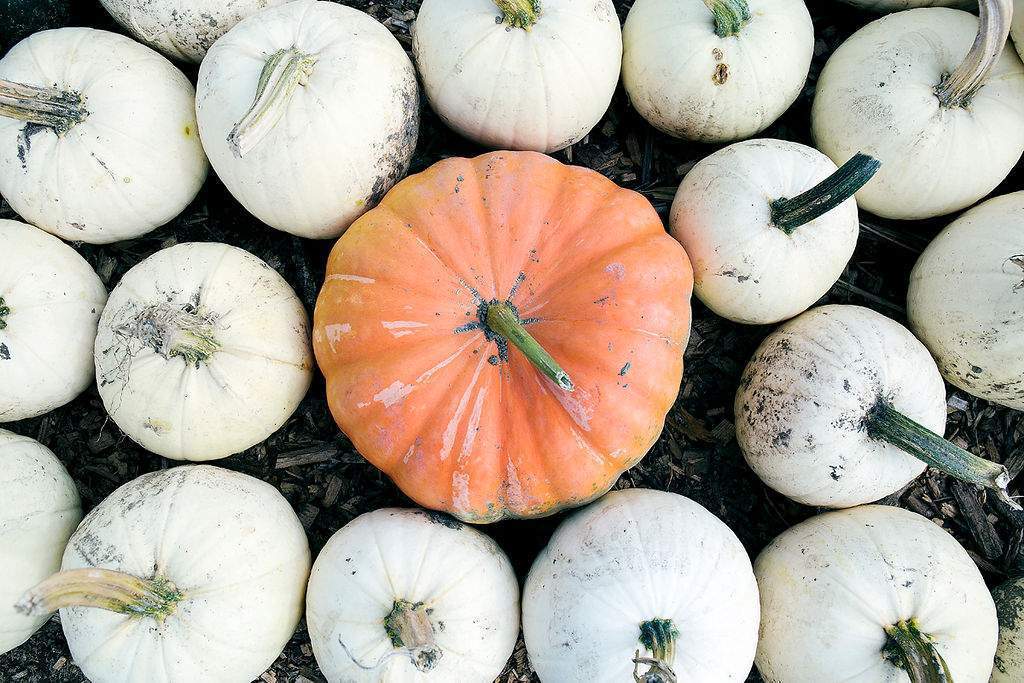 PUMPKIN PATCH: Open Tuesday 12pm-4:30pm..pumpkin patch closes at 4:30pm.
We grow over 40,000 pumpkins of all different colors and sizes throughout the season.  We have just started bringing up pumpkins to the patch.
0.89 cents per pound
Minimum charge of $3.50 per pumpkin
FARMSTAND: Open Tuesday 10am-5pm
Our own Apples – Honey Crisp and more
Our own Non-GMO Corn – will post on Monday evening if corn will be available on Tuesday.
Our own farm grown Flower Bunches
Apple Cider Donuts
Farm Made Bakery Items – pumpkin whoopie pies, homemade granola, cookies, and more!
Jams, Dressings, Sauces, Honey and more!
Please remember to bring your own bag or box to bring home your purchases.  We do offer reusable bags for 10 cents.
We now accept EBT/SNAP. 
Please leave your pets at home ~ only Certified Service Animals are permitted.  
MARY'S COUNTRY KITCHEN: Open Tuesday 10am-4:30pm
Warm Farm Made Apple Crisp
Hot and Frozen Apple Cider
Farm Made Ice Cream Sandwiches
Ice Cream, Coffee and more!
ANNIE'S ANIMAL BARNS & SANDBOX: Open Tuesday 10am-5pm.  Please note that on Tuesday, Wednesday & Thursday, school tours will be on the farm until 12pm and will be visiting this area.
No admission fee!
Come visit with our 30 new baby goats and our newly arrived sheep and chickens!
The Sandbox at Parlee Farms ~ almost 2,400 square feet of fun!
ROASTED CORN: Open Saturday & Sunday, Columbus Day 11am-4pm (weather permitting)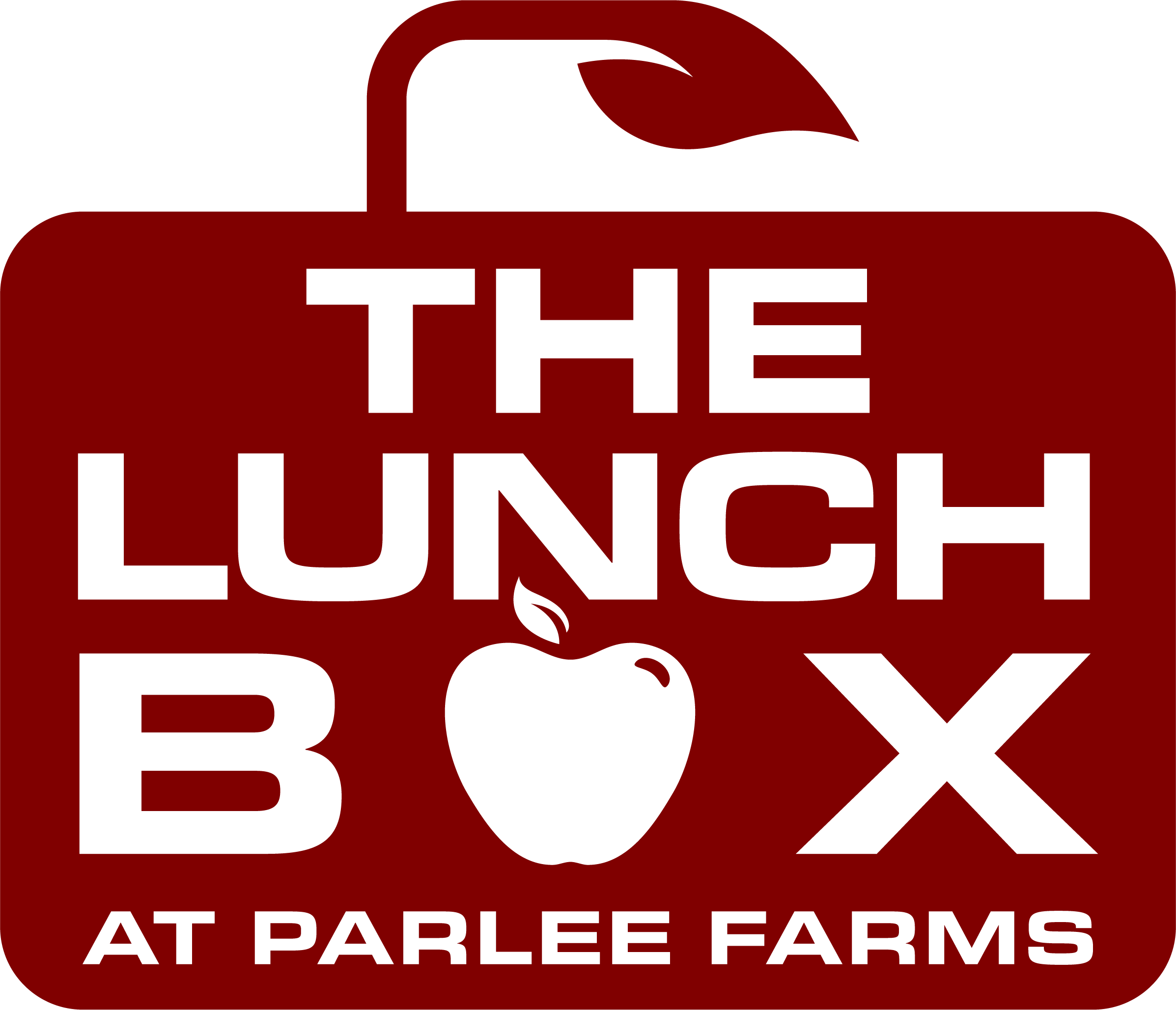 THE LUNCH BOX: Open Saturday & Sunday, Columbus Day 11am-3pm (weather permitting) 
We are excited about our new menu offerings this year!
100% USDA Prime Angus Burgers from ALPINE BUTCHERS in Lowell.
Hot Dogs
Pulled Pork Sandwiches
Veggie Wraps
Chicken Fingers
Mac & Cheese
Homemade Potato Chips
We hope to see you for lunch this fall!
Have a question? Please check our FREQUENTLY ASKED QUESTIONS page for answers to the most commonly asked questions.
Thank you for your interest in Parlee Farms ~ we look forward to seeing you soon!
Are you a subscriber to our email newsletter?  Subscribers get first notification of when a crop is ready.  If you are not a subscriber and would like to be, please sign up at the bottom of this page.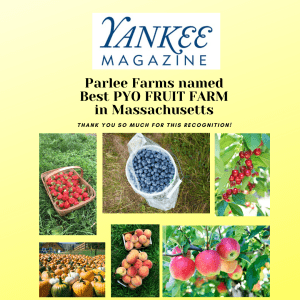 We are very excited that Parlee Farms was named by the editors of Yankee Magazine THE BEST PYO FRUIT FARM in MASSACHUSETTS!  We are so thrilled by this honor.  However, we know that this recognition would not be possible without the outstanding team members who are the face of Parlee Farms and the wonderful customers who have supported us since 1987.  Thank you!
If you need to get in touch with us, please email us.