Today's Farm News
Current Conditions ~ the entire farm is closed until June 2022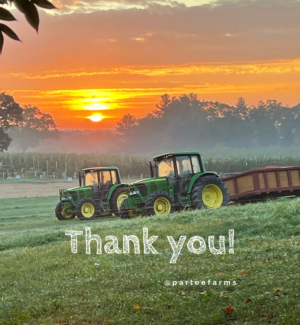 It is hard to believe, but our 2021 Season is over.  It went by so fast!  Thank you to all who visited us throughout the season.  We appreciate your support and friendship.  And thank you to our team members, who worked tirelessly to provide great customer service throughout the season.  We are able to do what we love to do because of the support of our visitors and the efforts of our team members.  We are so thankful to all of you!
The entire farm will be closed until June 2022.  We wish you and your families a safe, healthy winter and spring.  We look forward to seeing you at the farm next summer!
The Parlee Family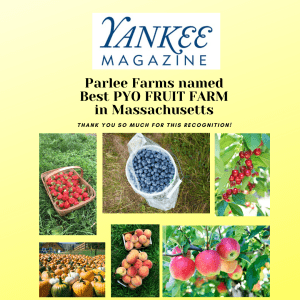 We are very excited that Parlee Farms was named by the editors of Yankee Magazine THE BEST PYO FRUIT FARM in MASSACHUSETTS!  We are so thrilled by this honor.  However, we know that this recognition would not be possible without the outstanding team members who are the face of Parlee Farms and the wonderful customers who have supported us for 34 years.  Thank you!