Today's Farm News
Thursday, August 21~ We are in for a beautiful stretch of weather!   Our picking schedule for today is ~
Blueberries ~ The Blueberry Field will be open with excellent picking on Thursday from 8am-1pm (last entrance 12:30pm). See below for our volume pricing!  We are now picking our last variety and expect the season to end before Labor Day.
Flowers ~ Flower Picking will be open on Thursday from 8am-4pm ~ there are thousands of zinnias to choose from.
Other news ~ 
New Summer Sunday Hours ~ the entire farm will close at 1pm on Sundays through August 24th.
Fall Hours begin on Tuesday, August 26th.
Apple Picking will start on Labor Day weekend!
Peaches ~ we are now picking peaches and nectarines for the farmstand.  However, due to extremely cold temperatures in January (-12 degrees for several nights), we lost a large percentage of the peach buds.  The sad result is that we do not expect to have pick your own peaches and nectarines this season.  We will have peaches in the farmstand as they ripen.
The Pick Your Own Seasons for Strawberries and Cherries are over for the year.  Thank you to all who visited during those season ~ they went by way too quickly.
Cost for Pick Your Own Blueberries:  $2.99/lb for 5.01lbs or more; $3.99/lb for 5lbs or less.
Cost for Pick Your Own Flowers: $8.99/lb for zinnias & gladiolus; $1.50 per flower for sunflowers.
The Farmstand (open 8am-4:30pm) will have our own Strawberries (limited amount), Blueberries, Corn, Peaches, Blueberry Donuts and other tasty treats, our own Cut Flowers, local vegetables,  Honey from our Beekeeper and more!
Mary's Country Kitchen (open 8am-4pm) will be offering Warm Blueberry Crumble and Ice Cream.
Annie's Animal Barns (open 8am-4:30pm) has over 70 friendly farm animals.  Come visit our Goats (24 babies born this winter!), Sheep, Chickens and Bunnies – they will be happy to see you!
Farmer Mark's Tractor Training Course (open 10am-3pm) is great fun for our little farmers!  This will close if there is rain or thunderstorms in the area.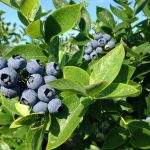 We accept MasterCard, Visa, Discover, and cash for payment. We provide containers for picking at no additional cost.  There is no entrance fee to enter the farm.  In following good farming practices, we do not permit smoking or pets on the farm. Answers to other commonly asked questions can be found at FAQs.
Thank you for your patronage, support, and friendship. We look forward to seeing you 'down at the farm' this season!