Today's Farm News
Conditions for Thursday, August 24, 2017 ~
 SUMMER FARM HOURS through Monday, August 28 ~ open Tues-Sat 8am-4:30pm, Sunday 8am-1pm, and Monday closed.
Fall Farm Hours begin on Tuesday, August 29.
Pick your own hours can change daily so check back here on the day you plan on visiting.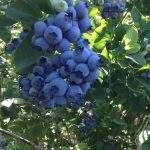 PICK YOUR OWN ~ check out our pyo specials!!
BLUEBERRY PICKING: The Blueberry Field will be open with excellent picking from 8am-1:30pm (last entrance ~ field will close at 2pm).  We will be picking every day through Sunday but check back here to confirm picking hours for any given day. The blueberry season goes until late August ~ hope you don't miss it!
COST FOR BLUEBERRY PYO: $4.25/lb.  AN EVEN BETTER PYO SPECIAL!! Pick more than 6lbs of blueberries and the price DROPS TO $3.75/lb!!
PEACH PICKING: The Peach Orchard will be open with excellent yellow peach picking from 8:30am-12:30pm (last entrance ~ orchard closes at 1pm).  It is a 5 minute walk to the peach orchard.   The peach season will go until the end of August.
COST FOR PEACH PYO: $28 for 1 peck (10-12lb) which allows 4 people into orchard.  One additional person can be added to the box for $6.  Only infants excluded from the the people count.  PEACH PYO SPECIAL!! Buy a 1 peck box, get 2nd box 1/2 off!  Please note that the 2nd box does not allow additional people into the orchard. 
CUT YOUR OWN FLOWERS:  The Flower Field will be open from 9am-4pm with beautiful zinnias, dahlias, and a limited amount of sunflowers available for picking.
COST FOR CUT YOUR OWN FLOWERS: $9.99/lb for zinnias, dahlias, and lillies; $1.99/flower for sunflowers.  The flower hut accepts only cash.
APPLE PICKING:  We expect to start on Labor Day Weekend.  The crop looks great!
CHERRY PICKING: The Cherry Orchard is now closed for the season.
STRAWBERRY PICKING: The Strawberry Fields are now closed for the season.
MORE AT PARLEE FARMS ~ 
Answers to some FREQUENTLY ASKED QUESTIONS ~
We accept Cash, MasterCard, Visa and Discover for payment.
Please leave your pets at home.  In following good agricultural practices, we do not allow pets on the farm.
We do not have an admission fee.
We no longer host nor permit birthday celebrations at the farm.
While we love to see families taking personal photos of their day at the farm, we do not allow professional photographs or portraits to be taken on the farm.
Other questions?  Please check out our FREQUENTLY ASKED QUESTIONS page for answers to other common questions about the farm.
If you need to contact us, please send us an email at info@parleefarms.com ~ we are able to answer emails much quicker than voicemails.  We are so thankful for your support and interest in Parlee Farms!
If you are a teacher and are interested in bringing your students to Parlee Farms for a Fall School Tour, please visit our SCHOOL TOUR page for information and our online reservation form.  We hope to see you and your students at the farm this fall!
We are so fortunate to have so many wonderful customers visit us throughout our season.  We look forward to seeing you at the farm this summer and fall ~ our 30th season of growing!
The Parlee Family