Today's Farm News
Farmstand and Annie's Animal Barns:

Open Tuesday – Friday 10am-5pm
Open Saturday, Sunday, and Columbus Day 10am-5:30pm
Closed Monday (except Columbus Day)
Closed Tuesday, October 11 (day after Columbus Day)
Mary's Country Kitchen closes 1/2 before the Farmstand.
Picking Hours differ from Fall Farm Hours ~ please check below for today's picking hours.
Conditions for Friday, September 30th ~ 
BONUS PICKING DAY! The apple orchard will be open on Friday from 12noon-4pm (last entrance ~ orchard closes at 4:30pm) with Honey Crisp, Empire, Macoun, and Golden Delicious.  Hayrides will not be running, but it is only a short walk to this section of the orchard.
The weekend apple picking is uncertain due to the wet forecast.  We will post an update on Friday evening.
We do not expect to have much weekday apple picking this season.  Our crop has been slightly reduced to a freeze in April.  However, the remaining 85% of the crop has been irrigated all season and the apples are big, juicy, and delicious!
COST FOR APPLE PICKING:
$35 for 1/2 bu (20 lbs) which allows up to 6 people onto the hayride and into the orchard.
$25 for 1 peck (10 lbs) which allows up to 4 people onto the hayride and into the orchard.
$5 for 1 additional person added to a bag; only infants excluded from the people count.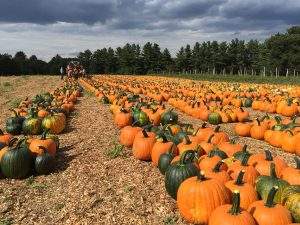 PUMPKIN PATCH  (open 10am-4:30pm, closes 1/2 hr before the farmstand) ~ So many beautiful pumpkins to choose from! We grow over 40,000 pumpkins and they were irrigated all summer.  We are sure you can find that perfect pumpkin!  Pumpkins are $0.75/lb, minimum $2.75 each.
CUT YOUR OWN FLOWERS  (Open 10am-4:30pm, closes 1/2 hr before the farmstand) ~   We still have beautiful zinnias available for picking.  The flower hut accepts cash only for payment.
COST FOR CUT YOUR OWN FLOWERS: $9.50/lb for zinnias and glads; $1.75/flower for sunflowers.  Please note that the flower hut only accepts cash for payment.  We provide the bucket and scissors ~ you provide the creativity!
THERE IS MORE AT PARLEE FARMS ~ 
PICK YOUR STRAWBERRIES, CHERRIES, AND BLUEBERRIES ~ The Pick Your Own Strawberry, Cherry, and Blueberry Seasons are over for this year ~ thank you to all the great pickers who visited for these popular crops!  PICK YOUR OWN PEACHES & NECTARINES ~ Sadly, the entire peach and nectarine crop in New England was lost to record cold temperatures in February.  So there will not be any peach pick your own.
FREQUENTLY ASKED QUESTIONS:
In addition to cash, we accept MasterCard, Visa, and Discover for payment ($5 minimum charge).
In keeping with good farming practices, we do not permit dogs (excluding service animals) or smoking (tobacco & e-cigarettes) anywhere on farm property.
Gift Cards are available in the Farmstand!  You can purchase them in any denomination and they do not expire.
We get many additional questions during the season and we have put together the most asked questions on our FAQs page.  If you do not find an answer to your question or need more information, please feel free to email us at info@parleefarms.com.  This is the fastest way to get in touch with us.  We welcome all comments and suggestions!
Thank you very much for your patronage and friendship. We are so fortunate to have so many wonderful customers visit us throughout our season. We look forward to your visits during our 2016 Season!