Today's Farm News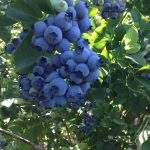 Tuesday, July 22 ~ It looks like we are in for a few very warm days!  The Farmstand, Annie's Animal Barn and Mary's County Kitchen are open today.  The Blueberry Fields will be closed until the end of the week to allow the fruit to ripen.  It takes 10 days for a blue bluerry to get really sweet and we want you to get the best blueberries you ever tasted!  Flower Picking will start soon ~ more details to follow!
Cost for Pick Your Own Blueberries:  $3.99/lb.
In our Farmstand (open 8am-4:30pm), we will have a SPECIAL ON OUR OWN CORN!  Buy 12 ears & get an additional 4 ears for FREE!!  We will have Blueberry Donuts and other tasty treats, local vegetables, Honey from our Beekeeper and more!  We will not have any blueberries in the farmstand.
Mary's Country Kitchen (open 8am-4pm) will be offering Old Fashioned Strawberry Shortcake (yes, with our strawberries!) and Ice Cream.
Annie's Animal Barns (open 8am-4:30pm) has over 70 friendly farm animals.  Come visit our Goats (24 babies born this winter!), Sheep, Chickens and Bunnies – they will be happy to see you!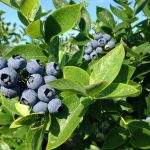 We accept MasterCard, Visa, Discover, and cash for payment. We provide containers for picking at no additional cost.  There is no entrance fee to enter the farm.  In following good farming practices, we do not permit smoking or pets on the farm. Answers to other commonly asked questions can be found at FAQs.
Thank you for your patronage, support, and friendship. We look forward to seeing you 'down at the farm' this season!