Today's Farm News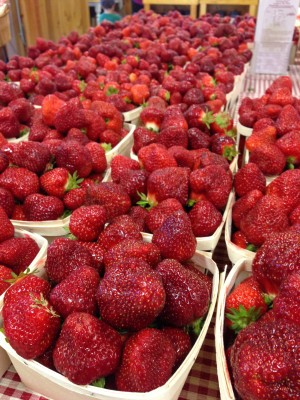 Conditions for Friday, June 23, 2017 ~ 
The SUMMER FARM HOURS are Tues-Sat 8am-4:30pm, Sunday 8am-1pm, Monday Closed.  Pick your own hours can change daily so check back here on the day you plan on visiting.
PICK YOUR OWN:
STRAWBERRY PICKING: Excellent picking today!!  The strawberry field will be open from 8am until 1:30pm (last entrance).
Special Volume Discount ~ pick more than 10lbs today and the cost drops to $3.75/lb!!
Picking will start at 8am at a field within walking distance.  Starting at 9am, hayrides will be taking pickers to the far fields starting for a couple of hours.  We will then move to a field within walking distance.  We will have STRAWBERRY PICKING through the weekend  with picking until early/mid-afternoon (weather permitting) ~ conditions will be posted the evening before.  The cost for pyo strawberries is $4.25/lb.  We expect to pick strawberries into early July.  The crop looks great!
CHERRY PICKING: starting late June / early July ~ we will keep you posted!
The Farmstand (8am-4:30pm) will have our own Strawberries and we will be continuing our SPECIAL of purchasing 3 or more quarts for only $5.99 each!!  We will also have Strawberry Donuts, Bakery Items, Pies from Mann Orchards, Honey from our beekeeper, and Jams & Dressings in the farmstand.
Mary's Country Kitchen (8am-4pm) is offering Old Fashioned Strawberry Shortcake and Ice Cream.
Annie's Animal Barns (8am-4:30pm) ~ stop by and say hello to our goats, sheep and bunnies!
If you need to contact us, please send us an email at info@parleefarms.com.  We are so thankful for your support and interest in Parlee Farms!
If you are a teacher and are interested in bringing your students to Parlee Farms for a Fall School Tour, please visit our SCHOOL TOUR page for information and our online reservation form.  We hope to see you and your students at the farm this fall!
We are so fortunate to have so many wonderful customers visit us throughout our season.  We look forward to seeing you at the farm this summer and fall ~ our 30th season of growing!
The Parlee Family