Today's Farm News
Conditions for Tuesday, July 25, 2017 ~ 
SUMMER FARM HOURS are open Tues-Sat 8am-4:30pm, Sunday 8am-1pm, and Monday closed.
Pick your own hours can change daily so check back here on the day you plan on visiting.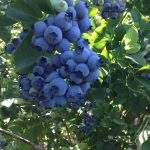 PICK YOUR OWN ~
BLUEBERRY PICKING:  Due to the heavy rains on Monday and drizzle on Tuesday, the BLUEBERRY FIELDS WILL BE CLOSED ON TUESDAY to dry out.  They will reopen on Wednesday at 8am with excellent picking.  The blueberry season goes until mid-late August.
COST FOR BLUEBERRY PYO: $4.25/lb.
CUT YOUR OWN FLOWERS: Coming in August!
PEACH PICKING: Coming in August!
CHERRY PICKING: The Cherry Orchard is now closed for the season.
STRAWBERRY PICKING: The Strawberry Fields are now closed for the season.
MORE AT PARLEE FARMS ~ 
FARMSTAND (8am-4:30pm): We will have our own Blueberries (limited amount), Corn, Cut Flowers, Blueberry Donuts, farm made bakery items, honey from our beekeeper, jams and dressings.  We will not have peaches today.
MARY'S COUNTRY KITCHEN (8am-4pm): Offering Old Fashioned Strawberry Shortcake, Warm Blueberry Crisp, Ice Cream, Ice Coffee, and more!
ANNIE'S ANIMAL BARNS (8am-4:30pm): Stop by and say hello to our friendly goats, sheep, chickens, and bunnies!  The feeding machines take quarters ~ no other food permitted to be fed to the animals.  Please help keep our animals healthy!
We accept Cash, MasterCard, Visa and Discover for payment.  And please leave your pets at home ~ in following good agricultural practices, we do not allow pets on the farm.  Please check out our FREQUENTLY ASKED QUESTIONS page for answers to common questions about the farm.
If you need to contact us, please send us an email at info@parleefarms.com ~ we are able to answer emails much quicker than voicemails.  We are so thankful for your support and interest in Parlee Farms!
If you are a teacher and are interested in bringing your students to Parlee Farms for a Fall School Tour, please visit our SCHOOL TOUR page for information and our online reservation form.  We hope to see you and your students at the farm this fall!
We are so fortunate to have so many wonderful customers visit us throughout our season.  We look forward to seeing you at the farm this summer and fall ~ our 30th season of growing!
The Parlee Family