What's Cooking at Mary's Country Kitchen and Bakery at Parlee Farms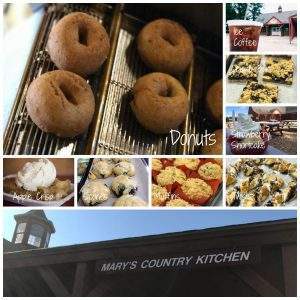 A visit to Parlee Farms isn't complete without a stop in to Mary's Country Kitchen and Bakery. It's named after our oldest daughter, Mary, who started the ice cream stand in 2000 when she was 14 years old. Seventeen years later, Mary's Country Kitchen now is comprised of three commercial kitchens and an amazing staff who create all those wonderful goodies!
The ice cream stand, which serves more than 20 flavors of Richardson Ice Cream from Middleton, MA, is a popular spot on the farm. In addition to offering ice cream, sundaes and frappes, it also features seasonal items using our fruit such as old-fashioned strawberry shortcake made with fresh baked scones or strawberry sundaes during strawberry season, blueberry crisp during blueberry season, and apple crisp during apple season – and all available with ice cream! Iced Coffee, hot coffee, and frozen drinks are always available, with hot apple cider added to the menu during the fall season.
Within the farmstand, our bakery team now makes many treats using our own fruit during each picking season including scones, tea breads, crisps, and muffins – all made from scratch and baked fresh every day! All of our bakery items can be taken to go and also make great gifts.
Perhaps what Mary's Country Kitchen and Bakery is best known for is our fresh made donuts, which we began baking in 2005. We offer strawberry donuts in June, blueberry donuts in July and August, and apple cider donuts in September and October. Our apple cider donuts have been named the best in New England by the viewers of NECN! Visitors are welcome to watch them being made in the farmstand. There's nothing quite like warm, delicious donuts!
At Parlee Farms, we're proud to use the designation of FARM MADE on our bakery items that are made from scratch right here, using fresh fruit from our farm. We hope you'll try some of Mary's Country Kitchen and Bakery's mouthwatering treats the next time you come to visit!
Categorized in: About Us
This post was written by Parlee Farms