The 2020 Season at Parlee Farms and COVID-19 Protocols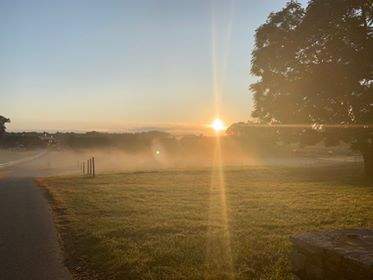 We are happy to be able to welcome guests back to the farm this season!  We will be following the guidance set forth by Massachusetts Department of Agricultural Resources and the Tyngsboro Board of Health to provide a safe environment for our staff and our guests.  This pertains to all aspects of the farm – Pick Your Own, Farmstand, Mary's Country Kitchen, Picnic Area, and Annie's Animal Barns.
We ask for your patience as we implement these changes.  Thank you in advance for your kindness, patience, and support!
 General Information:
Our most important focus this season is to keep our staff and our guests safe.  In addition to our already high cleaning standards, we will be adding the following safety & cleaning protocols:
Staff will and Guests should self-certify that that are well before coming to the farm. Otherwise, stay home!  This self-certification includes the absence of –

a fever of 100.4 degrees F or greater
a cough or trouble breathing
muscle pain
headache
sore throat
new loss of taste or smell
recent close contact with someone diagnosed with COVID-19
Social distancing of 6 feet will be observed and maintained in all areas of the farm.
Masks are required to be worn at all times on the farm. Any visitor over the age of 5 must be properly wearing a mask. 
Regularly disinfecting all high touch/high traffic locations, inside and outside.
Hand washing stations are available near the Farmstand and near the pick your own fields.
Implementation of one entrance and one exit for the Farmstand.
Hand sanitizing stations will be set up around the Farmstand.
More details about our protocols are listed within each category below.
PICK YOUR OWN :
Our first priority is the health and safety of our customers and employees so there are many changes to our pick your own process this year.  We will have additional staff on hand to safely direct and process customers in an organized manner and to answer any questions or concerns that you may have to ensure you and your family enjoy your visit.  When planning your visit, please keep in mind that pick your own is less busy during the week than on weekends and holidays.  Thank you for your support!
PYO FIELD RULES:
We are limiting the number of customers per acre in the pick your own fields to allow for social distancing protocols while fruit picking.  As a result, there may be wait times to enter the field.
Due to the limited number of people allowed in the pyo fields, all adults and children over the age of 1 are counted when purchasing the pyo containers.
The number of pickers in a field will be limited to allow for safe social distancing.
Picking areas will be assigned and no wandering is allowed. Children MUST remain within close proximity of a guardian.
We do not accept reservations for pick your own.
We have added outdoor registers to reduce wait times and eliminate the need to enter the Farmstand.
Please remember that you are required to wear your mask at all times when on the farm.  Masks that cover nose and mouth are required to enter the field for everyone 5 years old and over.
No eating or sampling fruit in the fields and orchards is permitted by order of the Commonwealth of Massachusett
You will be escorted to an area in the field to pick.
No reusable bags or personal containers permitted in the field.  Please reduce what personal items you need in the field to just the essentials.
Hand Washing Stations have been added to the picking fields.
Hayrides will be needed to access the far orchards

Social distancing of 6 feet between family groups will be enforced on the hayride.
Hayrides will be sanitized frequently during the day.
Farmstand:
The Farmstand will have one entrance and one exit.
The number of guests in the Farmstand will be limited to allow for safe social distancing. Please limit the size of your group entering the Farmstand.
Plexiglass barriers have been added to –

Registers in the Farmstand
Around the Bakery / Donut retail area
Outside registers
Mary's Country Kitchen windows

No touch chip card readers have been installed at all checkouts.
The floors have been repainted and the counters have been refinished to allow for better cleaning.
"Farmside Pickup" is our online store that will be used occasionally to offer certain items for curbside pickup.
Hand sanitizing stations will be available.
Masks are required to enter the building.
High touch areas will be regularly cleaned and sanitized. 
Picnic Area:
Picnic tables will be spaced 6 feet apart.
Groups will be limited to 6 people per table.
No outside food is permitted due to the reduced number of tables. The tables are reserved for guests purchasing food from our Farmstand and/or Mary's Country Kitchen.
Tables will be cleaned and sanitized after each use.
Annie's Animal Barns:
Social distancing of 6 feet per group will be required.
Animal food will be sold in cups instead of from self-serve machines.
Frequent cleaning and sanitizing protocols will be followed.
These protocols will be updated throughout the season as government regulations are modified.  We thank you for your support, your kindness, and your patience during this time.  Stay well and we look forward to seeing you 'down on the farm' during our 2020 season!
Categorized in: About Us
This post was written by Parlee Farms