Meet the Animals of Parlee Farms!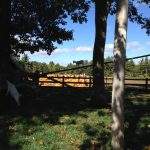 A trip to Parlee Farms isn't complete without a visit to Annie's Animal Barns! Children and adults can feed and pet more than 100 young farm animals including:
Goats
Most of the goats at Parlee Farms are a combination of dwarf nigerian and african pygmy goats, which explains their small stature. We have more than 60 goats, including 25 baby goats that were born in February! The main attraction of Annie's Animal Barns is "Annie's Goats in the Trees." Goats walk along a ramp system to a platform more than 20 feet up in the trees! Customers can feed the goats up in the trees using a conveyor system for the grain. Also, our visitors can feed all the goats directly through openings in the fence. The goats are very friendly and love the attention from our visitors!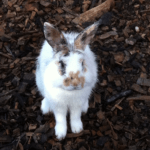 Bunnies
Our more than 20 bunnies love to see visitors! Although you can't touch them (they have very sharp teeth!), they love it when visitors put food down the feeding tube for them to enjoy.
Chickens
About 20 chickens live in Annie's Animal Barns. Most of the chickens are Plymouth Rock, a breed that originated in New England. They are sometimes simply called "Rocks" or "Barred Rocks" because of their coloring. All the chickens are hens and are calm and get along well with people and other animals, which makes Parlee Farms a great home for them! Like the bunnies, the chickens love receiving food through the feeding tube.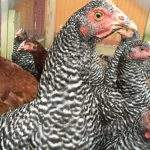 Our animals are truly a part of the "Parlee Farms family" and we work very hard to keep them healthy. All of the animals are regularly cared for by a Veterinarian. To keep the animals as healthy as possible, they are kept on a strict diet of hay (grown on the farm) and grain. Visitors are able to feed the animals, but must use the grain from our feeding machines. We do not permit any other outside food to be given to the animals because we monitor their diets based on how much food is dispensed from the machines. Like your own pet at home, we do everything possible to keep our animals healthy!
When you are done feeding and petting the animals, we have plenty of handwashing stations with running water and soap to keep your hands clean!
On your next trip to Parlee Farms, be sure to stop and visit our animals at Annie's Animal Barns. They will be happy to meet you!
Categorized in: Animals
This post was written by Parlee Farms