Try These Delicious Apple Recipes After Your Apple Picking Trip!
After a day of apple picking with the family, chances are good that you'll have more than enough apples. Even though they're delicious just as they are, why not use your apples to try these delicious recipes? All of these apple recipes were provided by Carolyn's Farm Kitchen Cooking Classes (http://www.carolynsfarmkitchen.com/).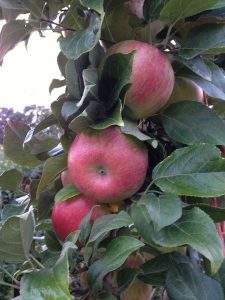 CHOPPED APPLE SALAD
Yield: 6 servings
Ingredients:
3 Parlee Farm apples, skin-on, ½" dice
2 stalks celery, sliced very thin
2 heads Belgian endive, sliced crosswise into ½" pieces
1 head radicchio, cut into 1" pieces
½ c. chopped walnuts
6 oz. gorgonzola cheese (or any good blue cheese)
Dressing:
Juice of 1 ½ lemons
1/3 c. mild olive oil
2 tsp. honey
Pinch kosher salt
Cracked black pepper, to taste
Preheat an oven to 350. Spread the walnuts on a baking sheet and toast for 8-10 minutes or until golden. Remove from the oven and allow them to cool. Whisk together all of the dressing ingredients and set aside.
To prepare the salad combine the apples, celery, endive, radicchio, walnuts, and gorgonzola in a large bowl. Add enough dressing just to coat and toss together gently.
Variations: Other ingredients which would work well in this salad include fresh pears, dried cranberries, raisins, pecans or almonds.
APPLE-STUFFED PORK LOIN WITH HARD CIDER SAUCE
Yield: 6 servings
Ingredients:
3 Tbl. unsalted butter
5 Tbl. packed light brown sugar
½ tsp. cinnamon
3 tart Parlee Farm apples, peeled, cored and 3/4" diced
3 lb. boneless pork loin, long and narrow works best
Kosher salt and cracked black pepper, to taste
2 Tbl. vegetable oil
1 – 1½ tsp. finely chopped fresh sage
1 c. apple cider
Preheat the oven to 375. Melt 3 Tbl. butter in a large skillet over medium-high heat. Add the brown sugar, cinnamon, and apples and cook for 3-4 minutes, not stirring much to allow the apples to brown and caramelize a bit. Toss the apples and cook another 3-4 minutes until sticky, glazed, and brown. Remove from the heat and allow them to cool.
Butterfly the pork by cutting the loin in half lengthwise to within 1/2" of the other side. Spread loin open, make diagonal score marks in the flesh, and pound the meat with a mallet or rolling pin to flatten a bit. Season generously with salt and pepper and spread the cooled apple mixture completely over the loin to within 1" of the sides. Re-roll the loin and tie with string at 1" intervals. Rub the pork with the oil and chopped sage, and season with salt and pepper. Sear in a very hot pan over medium-high heat, turning to brown all sides, and ending with fat side facing up. Pour apple cider over pork and roast for 60-70 minutes, or until internal temperature reaches 155. Remove from the oven and transfer meat to a cutting board, covering loosely with foil and allowing it to rest for 15 minutes while preparing sauce.
Hard Cider Sauce:
2 Tbl. unsalted butter
4 Tbl. flour
3-4 whole sage leaves
1 12-oz. bottle hard cider
1 c. beef or chicken stock
Kosher salt and black pepper, to taste
Make the sauce in the same roasting pan by melting 2 Tbl. butter into the pan along with the drippings. Stir in the flour and cook over medium heat for 1 minute. Slowly add the hard cider, whisking well to incorporate and break up any lumps. Add the sage leaves, beef stock, and salt and pepper and simmer for 2-3 minutes until a nice consistency develops. Taste for seasoning and serve with slices of stuffed pork loin.
SPICED APPLE CAKE WITH WARM CRANBERRY CARAMEL
Yield: 8-10 servings
Ingredients:
1 ½ c. vegetable oil
1 ½ c. granulated sugar
½ packed light brown sugar
3 eggs
2 tsp. vanilla
3 c. all-purpose flour
2 tsp. cinnamon
½ tsp. nutmeg
1 tsp. baking soda
3 ½ c. peeled and diced Parlee Farm apples
Preheat the oven to 350, and spray or oil a 10" bundt pan. Combine the oil and both sugars in a mixer and blend well on medium speed until incorporated. Add the eggs and vanilla and continue to blend until mixture is light in volume – approx. 1-2 minutes. Separately combine all of the dry ingredients and add these to the mixer, blending on low speed just until everything is incorporated. Add the apples and gently mix in. Spread the batter into the prepared pan and bake for 1 – 1 ¼ hours or until cake tests done in the center. Cool for 15 minutes before turning cake out of pan onto a platter. Serve with warm cranberry caramel sauce.
Cranberry Caramel Sauce:
Yield: 1 ½ cups
Ingredients:
1 c. packed light brown sugar
2 Tbl. light corn syrup
2 Tbl. unsalted butter
½ c. heavy cream
1 c. whole cranberries, fresh or frozen
Combine everything in a medium saucepan except the cranberries. Gently bring the mixture to a simmer, stirring well. Add the cranberries and continue to cook for 5-10 minutes, or until the berries have burst and the sauce is slightly thickened. Serve warm over slices of apple cake.
Categorized in: Recipes
This post was written by Parlee Farms