Some of Our Favorite Recipes for Blueberry Picking Season
Blueberry picking season is underway in New England and blueberries are available for picking until late August. The blueberry bushes here at Parlee Farms are the highbush variety. These blueberry bushes are perfect for families because some are as tall as 6-8 feet, which means that visitors of all heights can easily pick. Highbush blueberries are cultivated and are meant to be handpicked. They are different than the lowbush variety of Maine that only grow to about 2 ft. and are harvested by a machine and raked in. Highbush blueberries are also larger than lowbush blueberries.
Carolyn at Carolyn's Farm Kitchen (http://www.carolynsfarmkitchen.com/) has once again provided us with some great blueberry recipes to share!
DEEP-DISH BLUEBERRY PIE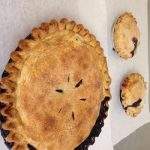 Pie Dough for one double-crust pie (see below)
6 c. Parlee Farms blueberries
¾ c. sugar
¼ tsp. cinnamon
¼ c. cornstarch
Milk for brushing
Preheat the oven to 375. Roll half of the pie dough and line a 9" deep dish pie pan. In a large bowl toss together the blueberries, sugar, cinnamon, and cornstarch and blend well. Place the filling into the pie pan, spreading it evenly and packing gently if needed. Brush the top edge of the dough with milk and roll out the remaining pie dough into a circle slightly larger than the pie dish.
Place the dough over the top of pie and tuck top and bottom edges (note: trim away any excess to prevent a crust that is too thick). Flute the edges and transfer the pie to a parchment-lined baking sheet. Brush the pie with milk and sprinkle lightly with sugar. Cut 2-3 vent holes in the top with a paring knife and bake the pie for 50-60 minutes or until the juices run thick and the crust is golden.
TRADITIONAL PIE CRUST
Yield: One double-crust 9-10" pie
Ingredients:
2 ½ c. all-purpose flour, plus extra for the worksurface
2 Tbl. sugar
3/4 tsp. salt
1 c. (2 sticks) cold, unsalted butter, cut into cubes
¾ – 1 c. cold water, or more as needed
Combine the flour, sugar, and salt in a large bowl and blend. Using a pastry cutter or two knives 'cut' the butter in and blend until the mixture resembles coarse crumbs. Slowly add the water, blending it in gently with your fingers and adding just enough until a nice moist dough is formed. Gather the dough into a ball, wrap in plastic and chill at least 1 hour or overnight.
Remove from the refrigerator and divide the ball in half. Flatten pieces into a disk and roll on lightly floured surface. Bottom crusts need to overhang the pie dish by about 1" and tops need to be rolled a bit larger so that it can cover the filling easily and be tucked under on the edges and fluted. (Note: Balls of pie dough can be wrapped in plastic and frozen up to 2 months. Thaw overnight in the refrigerator).
BLUEBERRY SCONES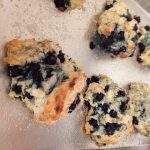 Yield: Approx. 10 large scones
Ingredients:
3 c. all-purpose flour
1/3 c. sugar
2 ½ tsp. baking powder
½ tsp. baking soda
¾ tsp. salt
¾ c. (1 ½ sticks) cold unsalted butter, cut into pieces
1 – 1 1/4 c. buttermilk or whole milk
2 c. fresh or frozen Parlee Farms blueberries
Preheat the oven to 375. Combine the dry ingredients in a large mixing bowl and blend briefly. Add the butter, cutting it in using your fingers or a pastry cutter. Continue blending until the butter is fully incorporated and there are no large pieces remaining. Add the milk and blend just until ingredients are barely incorporated. Gently fold in the blueberries.
Turn this dough onto a lightly floured surface and press it gently into a large round circle approx. 1" in thickness. Cut scones into 10 wedges with a sharp knife and place on a parchment-lined baking sheet. (note: the dough can also be scooped into round balls using an ice cream scoop as an alternative to forming wedges). Brush the tops lightly with milk and sprinkle with sugar. Bake for 12-15 minutes or just until the center is cooked through and no longer doughy.
Categorized in: Recipes
This post was written by Parlee Farms