Delicious Blueberry Recipes!
Now that blueberry picking season is in full swing, we'd like to share a few of our favorite blueberry recipes! These tasty treats come from Carolyn Greico of Carolyn's Farm Kitchen.
BLUEBERRY-NECTARINE BUCKLE
Yield: One 12" round cake (8-10 servings)
Ingredients:
1 ½ c. flour
2 tsp. baking powder
¾ tsp. salt
Generous pinch nutmeg
1 c. granulated sugar
½ c. (1 stick) unsalted butter, melted and cooled a bit
2 large eggs
2/3 c. milk
3 large nectarines, skin-on….cut into ½" thick wedges (about 2 cups)
2 c. fresh native blueberries
Streusel:
¼ c. (4 Tbl.) unsalted butter, melted and cooled
½ c. granulated sugar
½ c. flour
½ tsp. cinnamon
Pinch salt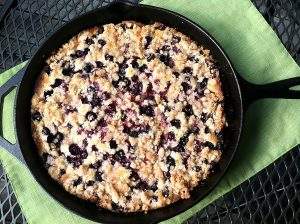 Preheat oven to 350 and coat with cooking spray a 12" round cake pan, springform pan, or cast iron skillet. Begin by melting the butter for cake and streusel and set aside to cool. To prepare the cake combine the flour, baking powder, salt, nutmeg, and sugar in a large bowl and blend thoroughly. In a separate bowl whisk together the melted butter, eggs, and milk and pour this mixture into the dry ingredients. Mix everything just until combined and spread the batter into the pan. Arrange nectarine slices in a single circular layer and sprinkle the blueberries evenly over the top.
Make the streusel by combining all of the ingredients and blending until large wet crumbs form. Sprinkle streusel over the fruit and bake 55-65 minutes, or until top is golden and center tests as moist crumbs (not wet batter). Serve cake warm out of the skillet or enjoy it for breakfast the next day!
Variations: This is a great 'farm fruit' buckle….perfect for any season. Works well with other fruits such as peaches, plums, apricots, cherries, raspberries, blackberries, etc. Also, the cake is versatile and can be baked in a 9×13" or 9-10" cake pan….just allow for a longer baking time.
NATIVE BLUEBERRY BREAD PUDDING, FRESH LEMON SAUCE
Yield: 6 servings
Ingredients:
2 c. whole milk
½ c. sugar
½ tsp. cinnamon
Pinch nutmeg
2 eggs
3 Tbl. unsalted butter, melted
6 c. dry bread cubes or torn pieces, approx. 1" in size
2 c. Parlee Farm blueberries
Garnish: Thin lemon slices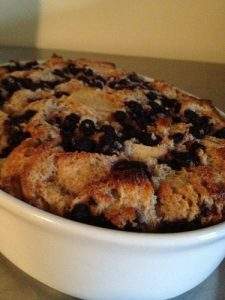 Preheat the oven to 350. In a large bowl whisk together the milk, sugar, cinnamon, nutmeg, eggs, and melted butter until thoroughly incorporated. Add the bread cubes, tossing well and allowing the mixture to sit for 10-15 minutes or until most of the liquid has been absorbed. Gently toss in the blueberries and transfer the mixture to a greased shallow baking dish. Bake the pudding uncovered for 45-55 minutes or until the top is puffed and golden, and the center of the pudding is springy to touch. Remove from the oven and serve warm with lemon sauce and fresh lemon slices for garnish.
Lemon Sauce:
½ c. sugar
2 Tbl. cornstarch
1 ½ c. cold water
Grated zest and juice of 2 lemons
3 Tbl. unsalted butter, at room temperature and cut into small pieces
Combine the sugar and cornstarch in a heavy saucepan and stir to blend. Whisk in the water, lemon zest, and lemon juice, and slowly bring this mixture to a simmer, whisking constantly until it begins to thicken. Remove from the heat and whisk in the butter a little at a time until the sauce has developed a nice smooth, silky consistency. Serve warm over bread pudding.
SUMMER BLUEBERRY CRUMB BARS
Yield: One ½ sheet pan (cut into 20-24 bars)
Ingredients:
2 c. granulated sugar
2 tsp. baking powder
1 tsp. cinnamon
6 c. flour
2 c. margarine (1 lb.)
½ tsp. salt
2 eggs
—————————–
8 c. fresh Parlee Farm blueberries
1 c. granulated sugar
2 Tbl. + 2 tsp. cornstarch
Combine the top set of ingredients except for the eggs. Blend on 1st speed until the margarine is 'cut' in. Add the eggs and mix until dough is moist but crumbly.
Line a half-sheet pan with parchment and press half of the dough evenly into the pan to form a bottom crust.
Separately, toss the blueberries with the sugar and cornstarch and blend gently. Sprinkle the blueberry mixture evenly over the crust, and crumble the remaining dough over the berries. Bake at 350 until the top is golden brown – 35-45 minutes. Cool completely before cutting into squares.
Categorized in: Recipes
This post was written by Parlee Farms