Enjoy These Summer Corn and Peach Recipes!
Summer might be winding down, but there's still plenty of time to entertain and enjoy a BBQ or party! If you're looking to try a new recipe, why not incorporate some of the fresh, local produce of the season?
Here are a few delicious corn recipes and a peach recipe from Carolyn at Carolyn's Farm Kitchen (http://www.carolynsfarmkitchen.com):
GRILLED CORN WITH BASIL BUTTER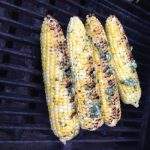 Basil Butter (yields 1 cup)
2 sticks unsalted butter, at room temperature
1 small bunch basil, finely chopped (approx. 1/3 cup)
2 cloves garlic, minced
Few dashes Tabasco
Kosher salt & cracked black pepper to taste
Parlee Farms corn, shucked
Whip all of the ingredients together until well blended. Taste for seasoning and store in the refrigerator for up to 3 weeks or wrap extra in parchment logs and freeze for later.
Grill corn over medium heat, turning occasionally, for 8-10 minutes or until tender and browned. When finished smother generously with the basil butter and serve.
FARMSTAND PANZANELLA SALAD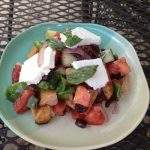 Yield: 6 servings
Ingredients:
3 ears Parlee Farms corn, shucked
2 c. chopped ripe tomatoes (use of mixed colors and varieties)
1 large cucumber, seeded and cut into 1" cubes
1 large sweet pepper, seeded cut into 1" pieces
½ red onion, sliced thin
½ c. Extra-virgin olive oil
5 Tbl. Red wine vinegar
1 tsp. sugar
Generous pinch kosher salt
½ tsp. cracked black pepper
½ loaf ciabatta, baguette, or other crusty bread
1-2 whole peeled garlic cloves
½ c. packed basil leaves, torn into rough pieces
Blanch the corn in a large pot of boiling water for 1 minute. Remove from the pot and allow it to cool before cutting the kernels off the cob. Place the corn in a large shallow bowl along with the tomatoes, cucumbers, peppers, and red onion. Separately whisk together the olive oil, red wine vinegar, sugar, salt and pepper, and add this vinaigrette to the vegetables tossing well to coat. Cover and let sit for at least 20 minutes to allow juices run and flavors to develop.
Meanwhile, preheat a grill on medium-low. Cut the bread in half lengthwise, brush generously with olive oil, and grill cut side down for about 4 minutes or until the bread is well-browned and very toasty. Turn and toast the other side for another minute. Remove from the grill and rub the cut side of the loaf generously with the garlic cloves. Cut the bread into one-inch cubes and set aside until ready to use (you will need about 3 cups total for the salad).
To assemble the salad, add the cooled toasted bread cubes and torn basil leaves to the vegetables, tossing everything gently. Allow the salad to sit for at least 10 minutes to soak up the juices before serving.
Recipe Notes: This salad can also be assembled as a bruschetta and is great topped with grilled shrimp or salmon! Other good additions are pitted calamata olives, capers, feta, or fresh mozzarella. In place of grilling the bread can also be toasted in a 350 oven on a baking sheet for 12-15 minutes.
SUMMER SUCCOTASH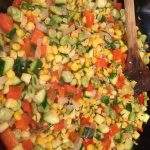 Serves 4 – 6 as a side dish
3 ears Parlee Farms corn, corn cut off the cob
1 red pepper, diced
1 zucchini, diced
2 Tbl. Unsalted butter
1 tsp. fresh thyme leaves
2 Tbl. chopped fresh chives
2 Tbl. chopped fresh parsley
Kosher salt and pepper to taste
½ cup lima beans (*if frozen follow the pre-cooking directions)
1 bunch scallions, thinly sliced
Melt the butter in a large sauté pan over medium-high heat. Add the red pepper and cook for 1-2 minutes. Add the corn and cook another minute. Add the zucchini, lima beans, herbs, salt & pepper, and sauté just until vegetables are tender but not mushy, approximately 2 minutes. Taste for seasoning and add additional butter if needed, toss in the scallions and serve.
UPSIDE-DOWN PEACH CAKE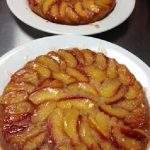 Yield: One 8" cake (6 servings)
Ingredients:
1 ¼ sticks unsalted butter
¼ c. + 2 Tbl. packed light brown sugar
3 Parlee Farms Peaches, pitted and sliced
5 Tbl. buttermilk
¾ c. flour
½ tsp. baking powder
1/8 tsp. baking soda
¼ tsp. cinnamon
Pinch salt
½ c. sugar
1 egg
1 tsp. vanilla extract
Ginger or French Vanilla Ice Cream
Preheat the oven to 350. Melt ¾ stick (6 Tbl.) butter in a medium saucepan over low heat. Add the brown sugar and whisk until smooth. Pour this mixture into the bottom of an 8" cake pan and place on a baking sheet. Arrange the peach slices in a circle covering the bottom of the pan and set aside.
Use an electric mixer to beat together the remaining ½ stick (4 Tbl.) butter together with the sugar until light and fluffy. Add the eggs and vanilla and blend. Combine the dry ingredients separately and add these to the mixing bowl along with the buttermilk. Blend just until everything is incorporated and spoon the batter over the peaches, spreading it evenly.
Bake for 30-35 minutes or just until the cake tests done (there will be juices from the fruit however). Remove from the oven and allow it to sit for at least 5 minutes to settle. Run a paring knife around the edge of pan and carefully invert the cake onto a serving platter (be careful of hot juices!). Serve peach cake with vanilla or ginger ice cream.
Variations: This cake can be baked in individual ramekins (4), dividing everything evenly throughout the recipe. Also, try using other fruits such as plums, nectarines, & apples.
Categorized in: Recipes
This post was written by Parlee Farms