End of Season Events at Parlee Farms
It's been a quick 5 months and we are already at the end of our 2015 season! We are in our last full week of the season. If you haven't made it to the farm yet or would like to enjoy one more day here- we are closing out the season with some very popular and fun events!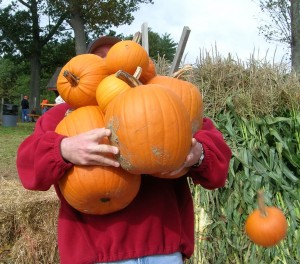 "All You Can Carry" Pumpkins
The "All You Can Carry" pumpkins event will take place on Saturday and Sunday from 10am-5pm. Visitors can take home all of the pumpkins that they can hold unassisted in their arms for only $25. In the past, customers have been able to hold up to 100 pounds of pumpkins! It's a great way to get some perfect carving pumpkins just in time for Halloween. And there are still hundreds of pumpkins left in the pumpkin patch!
Annual Halloween Party
To celebrate Halloween and the end of our season, the staff at Parlee Farms will be wearing their Halloween costumes on Saturday and Sunday. Visitors are encouraged to wear their costumes too! For every child who wears their Halloween costume to the farm on Saturday and Sunday, we will give that child a free small sugar pumpkin!
Apple Picking Special
We still have a plenty of apples on the trees and we are offering an Apple Picking Special from Thursday to Sunday. Purchase 1 pick your own apple bag and get ½ off a 2nd pick your own apple bag of the same size! Please note that the 2nd bag does not allow additional people into the orchard. Hayrides will be taking apple pickers to the orchard on Saturday and Sunday. Please check Today's Farm News and Facebook page for exact varieties on the day you plan on visiting.
If you love to bake fresh apple pies for the holidays, you can keep fresh picked apples in your refrigerator and they will still be great in those holiday pies. It is a great time to stock up before they are all gone!
Other Happenings at the Farm
In our Farmstand, we have a good supply of our own apples including Honey Crisp. Our donut machines will be running at least through Sunday with our very popular Apple Cider Donuts – they won't be available again until next year! We will be baking our Homemade Apple Crisp ~ nothing better than Warm Apple Crisp and Hot Cider on a cool, fall day!
This is a great time to stock up for the holidays and the long winter with our Frozen Homemade Apple Crisp, Apple Crisp Mix, Dressings, and Maple Products from Ben's Sugar Shack. Take advantage of our END OF SEASON FARMSTAND SPECIALS ~ 20% off all DRESSINGS, MAPLE PRODUCTS, Parlee Farms T-SHIRTS, and GHANA BASKETS!
The Hay Play Area, Annie's Animal Barns, and Farmer Mark's Tractor Training Course all add to a great day at the farm ~ hope you can join us before we close for the season early next week!
Categorized in: About Us
This post was written by Parlee Farms