It's Time for Fresh, Local Corn!
Corn on the cob is a family cook out staple in New England and fresh, local corn is the best kind! It has much more taste than the corn that you would buy at the grocery store because you eat it right at its peak. Local corn is sold right after it is picked as opposed to grocery store corn that needs to be shipped. In addition to our currently available fruit crops, our own fresh corn is picked daily and available in our farmstand from mid-July to early October.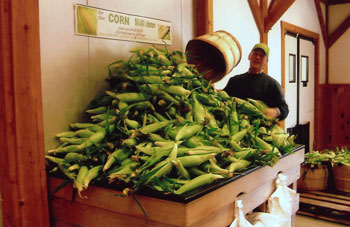 Here at Parlee Farms we specialize in sweet, tender corn that is picked at just the right moment. All our corn is non-GMO which means that it is NOT genetically modified. We pick our corn fresh every morning and have it piled high on the stand for you to enjoy that day. Our corn fields cover over 10 acres of land and include more than 10 varieties of Sugar Enhanced, Butter and Sugar corn. This corn is very sweet and very tender with small yellow and white kernels. Because our fresh picked corn is so sweet and tender, it only takes 4-5 minutes in boiling water to be ready to eat! Enjoy!
To find out what else is available now at Parlee Farms, please check our Current Conditions page at https://parleefarms.com – it is updated every day by 7am.
Categorized in: Corn
This post was written by Parlee Farms