Seasonal Fruit and Berry Recipes to Try!
Are you enjoying all your freshly picked fruit? Now that the season is in full swing, you might have more fruit than you know what to do with! The good news is that there are plenty of delicious recipes to try. No matter what you pick, whether it's blueberries, cherries, or strawberries, there is a recipe here for you! Here are a few of our favorite choices from Carolyn's Farm Kitchen.
SKILLET BERRY SHORTCAKE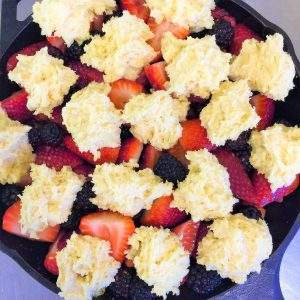 Yield: Approx. 8 servings
Fruit:
8 c. berries (such as blueberries, strawberries, blackberries, raspberries)
½ c. sugar
3 Tbl. cornstarch
Topping:
1/3 c. unsalted butter, at room temperature
1/3 c. sugar
1 large egg
1 ¾ c. flour
2 tsp. baking powder
½ tsp. salt
½ c. + 2 Tbl. whole milk, plus extra for the top
Ice Cream, for serving
Preheat the oven to 350 and prepare the fruit, hulling and cutting large strawberries in half or leaving small berries whole. Place strawberries in a large bowl along with other types of berries and add ½ cup sugar and the cornstarch. Toss together gently until incorporated and pour this mixture evenly into a 12" round skillet (or shallow baking dish).
Using a mixer blend together the butter and 1/3 cup sugar until incorporated. Add the egg and continue mixing on medium speed until mixture is light and fluffy. In a separate bowl combine the flour, baking powder, and salt, and add this to the mixing bowl alternately with the milk – blending just until dough comes together. Pinch off pieces of dough about 1 Tbl. in size and drop them onto the berry mixture randomly, leaving little 'windows' to still see the berries below. Lightly brush the top of the dough with milk and bake the shortcake for 35-40 minutes or until the fruit is bubbly and thickened and the biscuit topping is golden brown and center pieces no longer doughy (cheat by checking underneath one!). Serve the shortcake warm or at room temperature with ice cream or fresh whipped cream.
Variations: Try this recipe with other fruits such as rhubarb, peaches, plums, apricots! 
Website: www.carolynsfarmkitchen.com
WHIPPED BLUEBERRY BUTTER
Ingredients:
1 cup (2 sticks) butter, at room temperature
1 tsp. fresh lemon zest
¼ c. confectioner's sugar
½ c. blueberries, plus ¼ cup additional berries
In a stand mixer or medium bowl with a hand mixer, combine the butter, lemon zest, and confectioner's sugar. Blend at first to incorporate then whip on medium speed until the mixture is light and fluffy. Add
½ cup of the blueberries and whip until very well blended and whipped soft. Fold in the remaining ¼ cup berries by hand and transfer the butter to crocks or roll in parchment logs to store. 
Note: butter can be stored in the refrigerator for 2 weeks or frozen for 9 months. 
LEMON-BUTTERMILK WAFFLES
Yield: 5-6 Belgian-style waffles (4-compartment Belgian waffle iron)
Ingredients:
2 ½ c. all-purpose flour
1/3 c. granulated sugar
1 tsp. salt
1 Tbl. baking powder
¾ tsp. baking soda
1 Tbl. fresh lemon zest
3 Tbl. fresh lemon juice
2 large eggs
1/3 c. vegetable oil
1 c. buttermilk
1 c. club soda or seltzer water
Toppings: fresh berries, powdered sugar
Maple syrup optional
Begin first by preparing the blueberry butter (see below).
Preheat the oven to 250 and preheat waffle iron according to manufacturer's directions. In a medium bowl combine the flour, sugar, salt, baking powder, and baking soda, stirring thoroughly to combine. In a separate bowl whisk together the lemon zest and juice, eggs, vegetable oil, and buttermilk. Whisk in the club soda and add this wet mixture to the dry ingredients, stirring just until incorporated (it may still appear lumpy). Lightly grease the waffle iron with cooking spray and drop ¾ cupfuls of batter into the center of the preheated iron. Close the lid, pressing gently, and cook for 5-6 minutes or until crisp and golden brown. Use a fork to remove waffles from the iron and keep them warm on a baking sheet in the oven while cooking the remaining batter in batches. Serve waffles warm with blueberry butter, fresh berries, a dusting of powdered sugar, and maple syrup if desired.
Recipe Tips: Any style of waffle iron can be used though you may need to adjust the amount of batter per batch and the cook time. Waffles can be made ahead, cooled on a rack, and frozen in Ziploc bags for convenient 'toaster' waffles.
OPEN-FACED CHERRY-BERRY TART
Yield: 6-8 servings
Crust:
1 ¼ c. all-purpose flour, plus extra for rolling
1 Tbl. sugar
½ tsp. salt
7 Tbl. cold unsalted butter, cut into small cubes
6-8 Tbl. very cold water
Filling:
2 c. pitted sour cherries*
1 c. raspberries
1 c. blueberries
¾ c. sugar
3 Tbl. cornstarch
Finishing:
1 egg yolk, beaten
1 Tbl. sugar
Vanilla Ice Cream
Prepare the dough by combining the flour, sugar, and salt in a medium bowl, and 'cut' in the butter using a pastry cutter or your fingers until the mixture resembles coarse crumbs. Slowly add the cold water, blending gently with your fingertips just until a dough is formed (you may not need the full amount of water). Gather the dough into a ball, flatten into a disk, wrap in plastic and refrigerate for at least one hour.
Preheat the oven to 375. In a mixing bowl combine the cherries, raspberries, blueberries, sugar, and cornstarch, tossing to blend and set aside.   Roll the chilled dough on a lightly floured surface into a circle about 12" in diameter and transfer the dough to a parchment-lined baking sheet. Use a slotted spoon to add the fruit mixture to the center of the pastry leaving a 1" border all around (reserve any juices in bowl). Gently fold over the outer edge of the dough, pleating all around to form a nice border. Once the border is complete pour any remaining juices over the filling. Brush the edge of the dough with the beaten egg yolk and sprinkle with the tablespoon of sugar. Bake the tart for 45-55 minutes or until the juices run thick and bubbly. Remove from the oven and let set before cutting. Serve with ice cream if desired. 
*Recipe Tips:
– Sweet cherries can be used in place of tart – reduce sugar to ¾ cup.
– Fresh or frozen fruit can be used. Do not thaw frozen fruit.
Categorized in: Recipes
This post was written by Parlee Farms