History and Traditions of Blueberry Season at Parlee Farms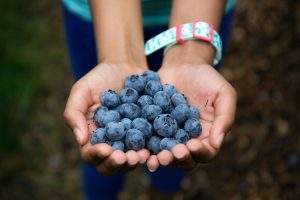 One of our favorite times of year, blueberry season! Blueberries are a great crop for the entire family to pick. Parlee Farms started as a strawberry farm, but blueberries were the next crop that we planted. We planted our first blueberry bushes in 1991. A blueberry bush does not start producing fruit for 4 years and reaches it full size by 7 years.
Growing blueberries has a lot of steps and requires work throughout the entire year.
Spring
Summer
Fall
Winter
April: plant blueberry bushes

May/June:

Fertilize

Pollination- thank you bees!

July-Sept: Harvest season! Requires a constant water supply and netting to protect from birds
Oct – Nov: Add woodchips under bushes, this keeps moisture in and helps

prevents weeds from germinating.

It helps insulate roots from winter damage and keeps roots cool in summer

Dec-March: dormant season for pruning which is very important to ensure consistent crops and large blueberries 
We have 10 different varieties of blueberries. Some of our favorites are:
Early Season: 
Patriot and Bluetta – medium size and good flavor
Mid season:
Toro – outstanding berry
Blueray: very popular variety. Very good flavor and large size
Late season:
Chandler: the perfect blueberry. Very large (quarter) size and good flavor.
Please stop in at Parlee Farms to pick your own fresh blueberries. We hope to see you soon!
Categorized in: Blueberries
This post was written by Parlee Farms