Mark Parlee Discusses Impact of Severe Drought on Farmers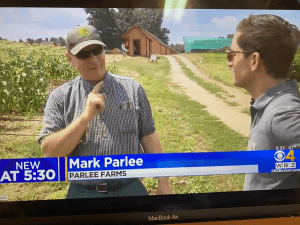 The hot and dry summer has resulted in a drought across the state of Massachusetts. CBS Boston and WHDH Boston 7 news recently came to talk to farmer Mark Parlee about how the drought has impacted our growing season.
In the clips below, Farmer Mark talks about how our irrigation system has been working around the clock to keep crops alive.
Our delicious blueberries, sweet corn, colorful flowers (and soon-to-be juicy apples and huge pumpkins) have all been possible this summer because of the irrigation system. Through a combination of drip irrigation and overhead irrigation, we've been able to combat the drought.
See clips here:
https://www.cbsnews.com/boston/news/massachusetts-farmers-pushed-to-the-limit-amid-severe-drought/
https://whdh.com/news/government-says-over-half-of-ma-suffering-from-severe-drought/
Before coming, check our home page to see what crops are season and available for picking. If you don't want to pick your own, you can come visit the animals at Annie's Animal Barns, get an ice cream, eat an apple cider donut, visit our farm stand, and more! We look forward to seeing you soon!
Categorized in: About Us
This post was written by Parlee Farms