Join the Team at Parlee Farms!
JOIN OUR TEAM!
At Parlee Farms, providing great customer service is a top priority.  We also strive to have our Team Members enjoy being at the farm as much as our customers do!
For the 2022 Season, we will be hiring Seasonal Retail, Bakery, and Tractor Driver Team Members.
Why would you want to work at Parlee Farms?
Great team environment
Competitive pay
Fall bonuses
Who makes a  great Parlee Farms Team Member?  Someone who is…
Energetic
Friendly
Strong work ethic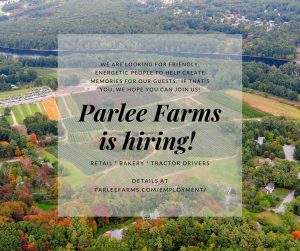 For the 2022 Season, we will be hiring great people for the following positions (please click on position for job description):
Please note the following requirements:
at least 16 years old for retail,
at least 18 years old for bakery,
at least 21 years old for tractor drivers,
and available to work at least 16 hours/week in September & October, including weekends.
The Employment Application is available at the link below.  Thank you for your interest in joining us at Parlee Farms!