New England Weather and When You Can PYO Crops
If you live in New England it's likely that you've heard this quote before:
"If you don't like the weather in New England now, just wait a few minutes." – Mark Twain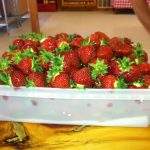 Isn't that the truth! The weather here in New England is so unpredictable. Some people love it and wouldn't want it any other way, claiming that a predictable weather pattern would be boring. Others find it extremely frustrating, especially for planning purposes! In Boston, MA the average high temperature for the month of April according to The Weather Channel is 56 degrees Fahrenheit. This past April, there were 9 days that only reached the 40's and one day with a high of 40 degrees!
Needless to say it was a cool spring. Winter just didn't want to leave us! Due to these cooler temperatures, it means that all of the pick your own crops are about a week late. Strawberry picking didn't start until June 17th, which is on the later end for when the farm opens each year. Cherries are the second PYO crops of the season and typically are available for picking in mid-June, but we are looking at a June 29th start for cherry picking this year.
The great news about the delayed start to our season is that all of the fruit is sizing up well and if the strawberries are any example, all should have outstanding flavor!
If you want to know what is available for picking, be sure to check our "Today's Farm News" page (https://parleefarms.com/farm-news/) before visiting!
Categorized in: About Us
This post was written by Parlee Farms