Pumpkin Recipes That Are Perfect for Fall!
There are many great things about the fall in New England and one of them is the opportunity to try lots of new fall themed recipes! All of these pumpkin recipes were provided by Carolyn's Farm Kitchen (http://www.carolynsfarmkitchen.com/).
PUMPKIN CHOCOLATE CHIP BREAD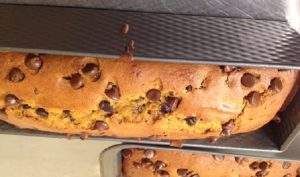 Yield: Two 8×4" loaves
Ingredients:
1 ½ c. granulated sugar
¾ c. vegetable oil
3 large eggs
1 ¾ c. fresh pumpkin puree (or one 15 oz. can)
¼ tsp. salt
1 ¼ tsp. baking soda
½ tsp. baking powder
½ tsp. each ground nutmeg, cinnamon, allspice
2 ¼ c. all-purpose flour
¼ c. cool water
2 c. chocolate chips
Preheat oven to 350. Combine the sugar, oil, and eggs in a large mixing bowl and use an electric mixer or hand whisk to whip the mixture until light in volume and color – approx. 2 minutes. Add the pumpkin puree and whip for another minute.
Measure all of the dry ingredients into the mixing bowl and stir gently until almost combined before adding the cool water. Stir mixture to blend completely and fold in the chocolate chips. Spread batter into greased pans and bake for 45-55 minutes or until center tests clean with a toothpick. Remove from the oven and cool completely before turning out of loaf pan.
ROASTED PUMPKIN & APPLE SOUP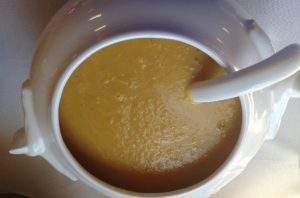 Yield: 2 ½ quarts (about 6 servings)
Ingredients:
Two 2 ½ lb. Parlee Farm sugar pumpkins (or 1 lg. butternut squash)
2 Tbl. vegetable oil
½ small onion, chopped
4 tart apples, peeled and cubed
2 c. chicken stock
2 c. water
2 Tbl. light brown sugar
½ ground nutmeg
Pinch cinnamon
½ tsp. salt, black pepper to taste
¼ c. light cream
Preheat the oven to 350. Wash the pumpkins and remove the stems. Cut pumpkins in half, remove the flesh and seeds (save for toasting later!), and place cut side down on a lightly oiled baking sheet. Roast pumpkins for 45-50 minutes or until tender when pierced with a knife. Remove from the oven and allow them to cool a bit before scraping pumpkin solids out of the skins….you should end up with about 6 cups of flesh.
In a large heavy pot heat the oil and cook the onion until translucent – 2-3 minutes. Add the apples, pumpkin, chicken stock, water, sugar and seasonings. Bring this mixture to a simmer, half cover the pot and cook until apples are tender…..15-20 minutes, stirring occasionally. Working in batches, carefully puree the mixture until completely smooth. Add the pureed soup back to a clean pot along with the light cream and enough water to get a smooth bisque consistency (approx. 1 cup or more). Heat soup gently over low heat, partially covered, until hot throughout. Taste for seasoning and adjust if necessary. Serve garnished with a small pinch of nutmeg on top.
MINI PUMPKIN WHOOPIE PIES
Yield: Approx. 3 dozen whoopie pies
Ingredients:
3 c. all-purpose flour
1 tsp. salt
1 tsp. baking powder
1 tsp. baking soda
1 tsp. cinnamon
1 tsp. ground ginger
2 c. packed light brown sugar
1 c. vegetable oil
3 c. pumpkin puree
2 large eggs
1 tsp. vanilla extract
Preheat the oven to 350. In a medium bowl combine the flour, salt, baking powder, baking soda, cinnamon, and ginger. Blend well and set aside. In another large bowl whisk together the brown sugar and oil until well combined. Add the pumpkin puree, eggs, and vanilla, whisking everything until thoroughly blended. Add the flour mixture to the pumpkin mixture and stir until fully incorporated.
Line baking sheets with parchment and using a very small ice cream scoop (or heaping tablespoon), scoop round mounds of dough onto pan, spacing at least 1" apart. Bake just until centers tests clean, approx. 15 minutes. Remove from the oven and allow them to cool before filling. Note: The whoopie pies can be frozen at this point layered on a baking sheet with parchment in between.
Spiced Pumpkin Filling: Yield: 3 cups
1 lb. cream cheese, at room temperature
1 ½ c. granulated sugar
1 Tbl. cinnamon
1 ½ tsp. allspice
½ c. pumpkin puree
Using an electric mixer combine the cream cheese, sugar, and spices and blend on low speed, scraping the bowl frequently until all is well blended and no lumps remain. Add the pumpkin and mix just until incorporated. Chill at least 1 hour or up to several days in the refrigerator.
PUMPKIN RAISIN MUFFINS

Yield: Approx. 2 ½ dozen
Ingredients:
3 c. sugar
1 c. vegetable oil
1 lb. solid pumpkin puree
4 eggs
3 ½ c.flour
2 tsp. baking soda
1 tsp. baking powder
1 tsp. each cinnamon, nutmeg, and allspice
½ tsp. ground cloves
2/3 c. cold water
1 ½ c. raisins
Preheat the oven to 350. Combine the sugar, oil, pumpkin, and eggs in a large mixer or mixing bowl. Blend on low speed until everything is incorporated before increasing to a higher speed and mixing until mixture is lighter in volume….2 minutes. Separately combine all the dry ingredients and add this to the mixer alternately with the water. Blend on low speed just until combined and fold in the raisins.
Scoop the batter into greased and lined muffin tins and sprinkle the tops with a cinnamon-sugar mixture if desired. Bake for 25-35 minutes, or just until the center of muffins test clean. Remove from the oven and cool a bit before turning out of tins.
Categorized in: Recipes
This post was written by Parlee Farms