Great Strawberry Recipes!
After a fun day of strawberry picking you may end up with more strawberries than you know what to do with! There are plenty of tasty strawberry recipes out there to choose from and we wanted to share some of our favorites with you. These are not items that we provide in our bakery on the farm, but would be great for you to try at home! All three recipes are from Carolyn Greico of Carolyn's Farm Kitchen.
NATIVE STRAWBERRY CRUMBLE
Yield: 6 servings
8 c. washed & hulled Parlee Farm strawberries (2 heaping quarts)
½ c. granulated sugar
¼ c. cornstarch
½ tsp. orange zest
1 c. all-purpose flour
1 c. oats
½ c. granulated sugar
½ c. light brown sugar, lightly packed
½ tsp. salt
1 ½ tsp. cinnamon
1 ½ sticks (12 Tbl.) cold unsalted butter, cubed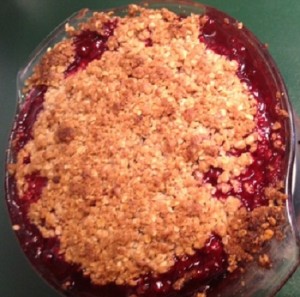 Preheat the oven to 350. Toss the berries, ½ cup granulated sugar, cornstarch, and orange zest together in a medium bowl until blended, and transfer to a shallow baking dish (about 9×11"). Place the dish on a baking sheet and set aside.
In a large bowl combine the flour, oats, granulated sugar, brown sugar, salt, and cinnamon and blend well. Add the butter and work it in with your fingers (or hand mixer) until incorporated and a moist crumb is formed. Spread this crumb generously over the top of the fruit and bake for 50-60 minutes or until the fruit is thick & bubbly and the crumb is nicely browned.
Serve warm or at room temperature.
SUMMER BERRY PUDDING
Yield: 10 servings
Ingredients:
4 c. Parlee Farm strawberries (washed, hulled, left whole if small, halved if large)
1 ½ c. fresh raspberries
1 ½ c. Parlee Farm blueberries
1 c. granulated sugar
Generous pinch cinnamon
½ c. water
1 one pound loaf brioche or challah bread, sliced approx. ¾" thick
Whipped Cream:
1 1/3 c. heavy or whipping Cream
1 tsp. vanilla
1/3 c. confectioner's sugar
Extra whole berries for garnish
Using a 9" springform pan, 2 quart mold, or deep glass dish……. line with plastic wrap overlapping to cover bottom and sides completely as well as extra hanging over sides. Place pan on a baking sheet and set aside. In a large pot combine the berries, sugar, cinnamon, and water and gently bring this mixture to a simmer, stirring to dissolve the sugar. Simmer mixture for 10 minutes until a nice berry sauce has developed.
Ladle ½ cup of the berry mixture over the bottom of the plastic in the pan. Arrange a single layer of bread over the sauce, cutting to fit as needed to completely cover bottom. Ladle approx. 1 ½ cups of the berry sauce over the bread, and repeat the layering two more times. Pour any remaining sauce evenly over the top layer of bread and cover with plastic wrap. Place a plate slightly smaller than the pan on top of the pudding to weight it down and keep the bread submerged. Refrigerate for at least 4 hours or overnight (and up to 2 days). Remove small plate and top plastic from pudding and invert onto a large serving plate. Remove the pan and all remaining plastic, allowing extra sauce to drizzle over pudding. Garnish the top of the pudding with whole mixed berries and keep chilled until ready to serve.
Whip the cream with the vanilla and confectioner's sugar until stiff peaks form. To serve, cut the pudding into wedges and top with dollops of whipped cream.
Note: This recipe works with frozen berries when fresh are not in season.
STRAWBERRY & GOAT CHEESE BRUSCHETTA
Yield: 4-6 appetizer portions
Ingredients:
2 c. thinly sliced Parlee Farm strawberries
3 Tbl. balsamic vinegar
1 small French baguette
Extra-virgin olive oil
Approx. 5 oz. crumbled goat cheese, at room temperature
Cracked black pepper
Fresh basil leaves, finely shredded
Toss together the strawberries and balsamic in a small bowl and set aside to macerate for 10-15 minutes. Meanwhile preheat a grill on medium or preheat a broiler. Cut the baguette in half lengthwise and brush with olive oil to lightly coat. Grill the bread cut side down just until nicely golden and toasted (if using a broiler place the bread on a baking sheet and toast under the broiler).
Top the warm toasted bread with goat cheese and season with cracked pepper. Scatter the strawberries over the cheese and spoon some of the leftover balsamic over the bruschetta. Sprinkle generously with basil leaves and cut into smaller pieces to serve.
Categorized in: Strawberries
This post was written by Parlee Farms