More Strawberry Season Recipes to Try!
We hope you are enjoying strawberry season! Chances are good that you'll have more strawberries than you know what to do with after a day of strawberry picking. Luckily, there are lots of great strawberry recipes to try. They taste even better with fresh, local strawberries! Here are a few new favorites from Carolyn's Farm Kitchen (http://www.carolynsfarmkitchen.com/):
STRAWBERRY, BASIL, & GOAT CHEESE BRUSCHETTA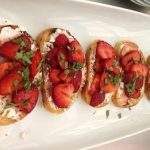 Yield: 4-6 appetizer portions
Ingredients:
2 c. thinly sliced Parlee Farms strawberries
3 Tbl. balsamic vinegar
1 small baguette
Extra-virgin olive oil
Approx. 5 oz. crumbled goat cheese, at room temperature
Cracked black pepper
Fresh basil leaves, finely shredded
Toss together the strawberries and balsamic in a small bowl and set aside to macerate for 10-15 minutes. Meanwhile preheat a grill on medium or preheat a broiler. Cut the baguette in half lengthwise and brush with olive oil to lightly coat. Grill the bread cut side down just until nicely golden and toasted (if using a broiler place the bread on a baking sheet and toast under the broiler).
Top the warm toasted bread with goat cheese and season with cracked black pepper. Scatter the strawberries over the cheese and spoon some of the leftover balsamic vinegar over the bruschetta. Sprinkle generously with basil leaves and cut into pieces to serve.
LEMON-YOGURT CAKE WITH FIELD STRAWBERRIES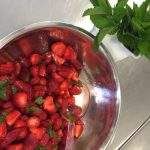 Yield: One 10" round springform pan
Ingredients:
½ c. (1 stick) unsalted butter, at room temperature
1 c. granulated sugar
Zest and juice of 1 large lemon
3 large eggs
2/3 c. yogurt
1 ½ tsp. baking powder
Pinch salt
1 ½ c. all-purpose flour
Heaping quart of Parlee Farms strawberries, hulled & halved
2 Tbl. granulated sugar
Torn fresh mint leaves
Confectioner's sugar for dusting
Preheat the oven to 350. Using a stand mixer or hand mixer, combine the butter, sugar, and lemon zest in a large mixing bowl and blend on low speed until incorporated. Increase to medium speed and cream the mixture until light and fluffy in consistency – about 2 minutes. Add the eggs and blend on low speed until thoroughly incorporated, scraping the sides and bottom of bowl during the process. Stir together the lemon juice and yogurt and set aside. Add the baking powder, salt, and flour to the mixing bowl and blend on low speed until halfway incorporated. Add the yogurt mixture to the bowl and continue mixing on low speed until the wet and dry ingredients are incorporated. Remove the bowl from the mixer, scrape down the sides of bowl and pour the batter into greased pan spreading evenly. Bake for 35-45 minutes or until the center of cake is no longer wet when tested. Remove from the oven and cool completely before transferring to a serving plate.
Meanwhile gently toss the cut berries with the granulated sugar and a few torn mint leaves, allowing this mixture sit for at least 15 minutes to dissolve the sugar and develop natural juices. Dust the top of the cake lightly with confectioner's sugar and serve with fresh strawberry mixture.
Categorized in: Recipes
This post was written by Parlee Farms