Summer Brunch Ideas with Seasonal Fruit
Brunch is great year round, but the nice thing about summer is that you can use ultra-fresh, seasonal fruit in your recipes. These ideas can be adapted so that you can use whichever seasonal fruit that is available. Whether you buy from our farm stand or pick your own these brunch ideas will help you get the most out of summer's bounty: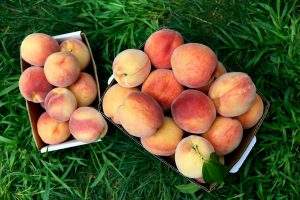 Serve Fresh Fruit or Fruit Salad
Serve fresh fruit as part of your regular brunch spread! You can either wash the fruit and serve it whole, or cut it up and make a delicious fruit salad. If you decide to make fruit salad, here is an easy dressing you can make with ingredients you likely have on hand:
1/4 teaspoon liquid honey
4 tablespoons lemon, lime, or orange juice
Whisk the above ingredients together in a small bowl. Pour over freshly cut fruit and toss gently to distribute. Serve immediately.
Fruity Pancakes
Fresh fruit is a great addition to your regular pancake recipe! Just prepare your favorite pancake batter as usual. After the batter is stirred, gently stir in 1/2 – 1 cup of freshly cut fruit, depending on how much batter you have and your preferences. After the batter is prepared, make the pancakes as usual.
Baked French Toast with Fruit
Baked French toast is a brunch-time staple, and fresh fruit takes it to the next level! Here's a quick recipe:
Spray a 9×13 pan with cooking spray.
Cut 1 loaf of French bread into 3/4 – 1-inch slices and layer across the bottom of the pan in a single layer (fit them in sun).
Beat 6 eggs, 3 tablespoons granulated or raw sugar, 1 teaspoon vanilla, and 2 cups of milk in a separate dish. Pour over the bread.
Cover with plastic wrap and place in the refrigerator overnight.
When ready for brunch, preheat the oven to 375 Degrees Fahrenheit. Uncover the dish.
Sprinkle 1 cup of freshly cut fruit (apples, peaches, etc) or fresh berries (like blueberries). Sprinkle 1 tablespoon sugar and 1 teaspoon cinnamon over the fruit.
Bake in the center of the oven for about 35-40 minutes. Most of the liquid should be absorbed, and the French toast should be puffy and have a golden color.
Be sure to regularly check the schedule on the Parlee Farms home page. If you are in the local area here in Tyngsboro, MA, be sure to stop in and pick your own fruit to use in these recipes!
Categorized in: Recipes
This post was written by Parlee Farms