Easy Summer Ideas for Blueberries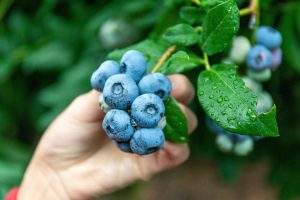 Blueberry season is upon us, which means that it's time to have some fun! Sure, they taste delicious on their own, especially after you pick your own fresh from the farm, but it can also be fun to try some new recipes. Here are some ideas for what you can do with this blueberries after you pick them:
Blueberry Smoothie Recipe
Ingredients
1 cup fresh blueberries
1 cup yogurt of choice (plain, berry-flavored, vanilla-flavored, etc)
3/4 cup milk of choice (oat, almond, regular milk, etc)
1 tablespoon sweetener, like maple syrup, sugar, or honey (may use 1 tablespoon more if you like it extra sweet)
1 teaspoon vanilla extract
Instructions
Place all the ingredients in a blender and pulse until smooth. Divide the smoothie mixture into two, eight ounce glasses. To make one portion, halve the recipe.
Blueberry Bellini Recipe
This recipe makes a full pitcher of Bellinis and is great for a crowd.
Ingredients
2 cups fresh blueberries
1/2 cup sugar
1/2 cup water
1 bottle of chilled Prosecco or Champagne.
Instructions
Place the blueberries, sugar, and water in a saucepan and heat on medium until boils. Set the heat on low so that the mixture can simmer, uncovered, for a bout twenty minutes. Let cool, and then add the mixture to a blender and pulse until smooth.
Strain the mixture into a large pitcher over a fine-mesh sieve. You may skip this step if you enjoy the pulp. Pour the Champagne or Prosecco into the pitcher and divide the cocktail into champagne flutes. Serve immediately.
Blueberry Ice Cubes
Place 1-3 fresh blueberries in an ice cube tray and then fill with water. Let freeze all the way through before use. This is a fun twist on the regular ice cube, and goes well with just about any cold beverage including soda, cocktails, and even plane water. You can also fill the trays with juice instead of water for an interesting twist.
These recipes will definitely help you enjoy all those freshly picked blueberries. Enjoy!
Categorized in: Blueberries
This post was written by Parlee Farms