The Benefits of a Tall Spindle Planting System for Apples
Since we began in 1988, our philosophy at Parlee Farms has always been to keep investing in the business. As apples are our most popular crop,  innovation is imperative. Over the last few years, we have begun adding and replacing sections of our 18 acre apple orchard with the Tall Spindle Planting System.
Utilizing this high density system, we have been able to plant 1,000-1,200 dwarf apple trees per acre versus our previous system of approximately 700 dwarf trees per acre. Apple production using the Tall Spindle Planting System starts at year 2 versus year 4 with our original dwarf planting system.
To date, over seven acres have been planted to the new system. Total replacement is expected to take another 9-12 years. Here's a look at what our spindle system looks like:
First year planting in the Tall Spindle Planting System: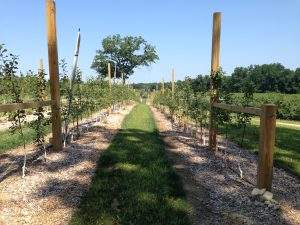 Mature planting in the Tall Spindle Planting System: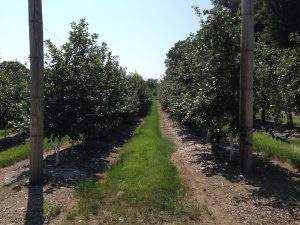 According to a Cornell University study:
The Tall Spindle planting system is an apple planting system particularly suited for the Northeast. It maximizes profitability through early yield, improved fruit quality, reduced spraying, pruning, and training costs, and the ability to rapidly establish new orchards with more profitable apple varieties.
Notable characteristics of a Tall Spindle Planting System:
High planting density
Tall Spindle orchard density is approximately 1,000-1,500 trees per acre. This can vary depending on the apple variety, rootstock, and soil strength which determines the length of in-row spacing. In-row spacing should be 3-4 ft. with 11-12 ft. between rows.
High feathered (branched) nursery trees
It's recommended that the trees have a minimum of 10-15 well positioned feathers (branches) with a maximum length of 1 ft. This promotes early bearing.
Minimal pruning
Highly feathered nursery trees require almost no pruning (removing parts of the plant to keep it healthy) at planting.
Support system
A wire support system is required to carry the crop and support rootstocks.
Branch angle manipulation
Larger feathers are tied down after planting to keep trees within a specific area and to promote the production of fruit buds each year.
Limb renewal
There are no permanent limbs within the tree using the Tall Spindle method. Renewal cuts encourage new shoots to form as replacement fruiting limbs.
As you can see, there are some clear benefits of sing a tall spindle system for planing apple trees. When you visit the farm, you'll be able to see this system in action!
Categorized in: Apples
This post was written by Parlee Farms