Parlee Farms is Now Open for the 2015 Fruit Picking Season!
After such a long, cold winter, we are excited to now be open for picking here at Parlee Farms! We had a record low temperature of negative 17 degrees here at the farm in late February but luckily we came through the winter with no structural damage and we're on track to have great strawberries, blueberries, and apples!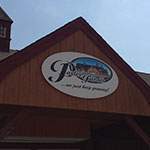 We are open from mid-June through October. Customers can pick their own fruit and flowers. Fresh fruit that is available for picking at different times throughout the season include apples, blueberries, strawberries, and peaches as well as cut your own flowers. In the fall, pumpkins are also available for picking. Fruits, flowers, and sweet corn are also available fresh picked in the Farmstand.
Strawberries are the first fruit available for picking and the strawberry picking season typically lasts until early-mid July. We have over six acres of strawberry plants. Many different strawberry varieties are available for picking during June with the most popular being 'Jewel', which has exceptional strawberry flavor and color.
In addition to offering delicious local produce, either fresh picked or as pick your own, we offer many other attractions for visitors to enjoy while spending a day at the farm. Mary's Country Kitchen and Bakery offers tasty treats related to each picking season as well as ice cream. Annie's Animal Barns are filled with young farm animals to feed and pet including baby goats, sheep, chickens, and bunnies. A spin around Farmer Mark's Tractor Training Course is great fun for our little farmers!
It's now our 28th season and we're fortunate to have so many loyal customers who keep coming back year after year. And we're looking forward to meeting newcomers as well! Be sure to check our "Today's Farm News" page (https://parleefarms.com/farm-news/) to see what's available for picking. It's updated every day!
Categorized in: About Us
This post was written by Parlee Farms