Some of Our Favorite Recipes for Apple Picking Season
September and October are prime apple picking months in New England. Have you visited the orchard yet? If not, what are you waiting for? And if you have, you are probably wondering what to do with all of those apples! If you're looking to try some new apple recipes this season, we've rounded up some of our favorites. Special thanks once again to Carolyn's Farm Kitchen (http://www.carolynsfarmkitchen.com) for these delicious recipes!
CURRIED APPLE CHUTNEY


Yield: Approx. 4 cups
Ingredients:
2 cups peeled, cored, and chopped Parlee Farms apples (about 5 apples)
½ lb. golden raisins
1 c. packed brown sugar
1/3 c. chopped onion
¼ c. finely chopped sweet red pepper
2 tsp. mustard seed
1 1/2 tsp. ground ginger
½ tsp. allspice
¾ tsp. curry powder
½ tsp. kosher salt
1 small hot red pepper, finely chopped (or adjust amount to taste)
¾ c. cider vinegar
Combine all ingredients in a large saucepan. Simmer over medium-low heat, stirring frequently, until mixture is thick (about 30 minutes). Cool and store in the refrigerator for 2 months.
**Chutney is great served at room temperature with roast pork or chicken, or on top of sharp cheddar cheese with steamed brown bread.
INDIVIDUAL PORK & APPLE POT PIES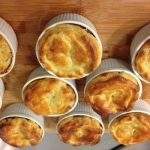 Yield: 4-5 servings
Ingredients:
1 Tbl. unsalted butter
2 lb. lean ground pork
1 clove garlic, minced
1 large onion, finely chopped
3 stalks celery, finely chopped
1 tsp. kosher salt, plus more to taste
½ tsp. cracked black pepper, plus more to taste
2 Tbl. flour
¾ c. water
3 Parlee Farms apples, peeled and chopped
¼ c. fresh parsley (or 2 Tbl. dried)
1 Tbl. fresh savory (or 1 ¼ tsp. dried)
Generous pinch ground cloves (approx. 1/8 tsp.)
¼ tsp. cinnamon
1 sheet frozen puff pastry, thawed but kept cold
1 egg, beaten
Preheat oven to 400. Heat a large heavy skillet over medium-high and add the butter, pork, garlic, onion, and celery to the pan. Season with salt and pepper and cook until the vegetables get translucent and tender, about 10-12 minutes. Stir in the flour and cook the mixture for one minute. Stir in the water followed by the apples, parsley, savory, cloves, and cinnamon, blending well. Cover the pan and simmer gently for 30-40 minutes, stirring frequently and adjusting seasonings as needed half way through (if mixture seems too dry add a small amount of additional water). Divide the filling evenly among 8 oz. ramekins or a 9" baking dish and place on a baking sheet. Allow the filling to cool completely before topping with pastry (this can be prepared up to two days in advance).
Roll out the puff pastry on a lightly floured surface just enough to extend the size by ½" but not too thin. Use a cookie cutter or other vessel to cut rounds that are ½" larger than the diameter of the ramekins. Place the dough over the filling, tucking the excess pastry inside the ramekins to create an edge. Brush pastry with beaten egg, cut vent slits in the top with a paring knife, and bake for 15 minutes or until the crust is well-browned (a larger baking dish will take 5-10 minutes longer).
Note: Fully assembled pies can be held in the refrigerator for a couple of days or frozen. Bake frozen pies as is (unthawed) and allow for a longer cooking time.
OLD-FASHIONED APPLE PANDOWDY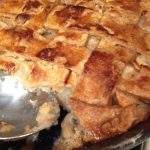 Yield: 10" deep pie
Crust:
1 ¾ c. all-purpose flour
¼ c. sugar
1 tsp. cinnamon
½ tsp. salt
10 Tbl. cold, unsalted butter (1 stick + 2 Tbl.)
¼ – 1/3 c. cold apple cider
Filling:
10 heaping cups peeled & sliced Parlee Farms apples
½ c. packed light brown sugar
¼ tsp. cinnamon
¼ tsp. ground ginger
Pinch nutmeg
Juice of 1 lemon
¼ c. apple cider
Begin by making the crust….combine the flour, sugar, cinnamon, and salt in a medium bowl. Cut in the butter using a pastry cutter or fingers until the mixture resembles coarse meal. Add the cider and mix gently until a dough is formed. Gather dough into a ball, wrap in plastic and chill for 30 minutes or longer.
Note: this dough can be prepared ahead and refrigerated for two days or frozen for 1 month.
Preheat the oven to 400. Toss together all of the filling ingredients in a large bowl, blending well before transferring to a 2-3" deep baking dish or skillet, approx. 10" in diameter (a shallow pie pan will not be suitable). Remove the dough from the refrigerator and working with half at a time, roll out onto a lightly floured surface into a rectangular shape, ¼" in thickness. Use a knife to cut 1" wide strips of dough and place over the filling in alternate directions, creating a lattice appearance but with some of the fruit still visible (no need to be too fussy here…..this is a wonderfully rustic dessert!). Note: the pandowdy can be assembled to this point and frozen. When ready to cook, bake frozen….do not thaw.
Place the pandowdy on a baking sheet and bake for 30-35 minutes or until the crust is golden brown and fruit mixture is bubbly. Remove from the oven and use the back of a large spoon to gently press the crust into the dish, allowing the liquid to come over the top and coat the crust (there should be liquid in the pan, however if the fruit is particularly dry pour in a small amount of additional apple cider). Place the dessert back in the oven for an additional 15 minutes, or until the crust is glazed and golden but not soggy, and serve pandowdy warm or at room temperature.
Categorized in: Recipes
This post was written by Parlee Farms