Fall School Field Trips at Parlee Farms!
It's almost "back to school" time, which means that it's time to book your fall school field trip to Parlee Farms! Our fall school tours are the perfect way for school children to enjoy a beautiful day in a country setting and are geared for pre-school through 3rd grade children. We offer three packages with an age appropriate explanation of our farming techniques.
School tour packages that are available:
• Apple Picking Trip (available September 17 – October 18, Tuesday – Friday from 9:30am-1pm)
• Pumpkin Picking Trip (available October 15 – October 25, Tuesday – Friday from 9:30am-1pm)
• Combination Trip (available September 17 – October 18, Tuesday – Friday from 9:30am-1pm)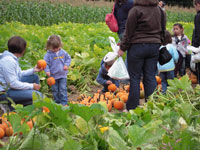 Our Apple Picking Trip includes picking apples from our dwarf trees which are easy for young children to reach. Our Pumpkin Picking Trip includes choosing a small sugar pumpkin right from the Pumpkin Patch. With the Combination Trip, you can pick both Apples and Pumpkins! All of the trips include a hayride around the farm, feed for Annie's Animal Barns ("Goats in the Trees" and our other goats, sheep, bunnies, and chickens), access to the Hay Play Area, and use of our picnic area. Additional options include riding the little tractors at Farmer Mark's Tractor Training Course and purchasing our delicious apple cider donuts.
Check out the video on our school tours page to see what a school field trip at Parlee Farms is like: https://parleefarms.com/tours.html
For more information including pricing and additional package information, please view the Parlee Farms Fall School Tour Information Packet: https://parleefarms.com/documents/Parlee-Farms-School-Fall-2013.pdf
To reserve your choice of day and time, we recommend booking soon! The best way is to use our online reservation form: https://parleefarms.com/forms/class-trip.php
We hope to see your classroom soon!
Categorized in: School Tours
This post was written by Parlee Farms