Seasonal Recipes for Fall Holidays
If you love to bake, fall is arguably one of the best seasons to do so. The air is cool and crisp and it's the perfect time to fill your home with the scents of the season from your oven or stovetop. There are just so many delicious fall recipes to try. Here are a few recommendations that are perfect for fall holiday gatherings (from Carolyn's Farm Kitchen):
PUMPKIN PIE BISCUITS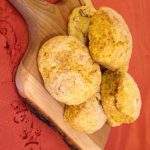 Yield: 1 ½ dozen 2" biscuits
Ingredients:
3 c. all-purpose flour
2/3 c. sugar
1 Tbl. baking powder
1 tsp. baking soda
¾ tsp. salt
1 tsp. cinnamon
½ tsp. nutmeg
¼ tsp. allspice
5 Tbl. cold unsalted butter, cut into pieces
1 c. pumpkin puree (roasted & mashed fresh pumpkin, or canned pumpkin)
¾-1 c. milk
2 Tbl. unsalted butter, melted
Cinnamon-sugar blend
Preheat the oven to 400. Combine the flour, sugar, baking powder, baking soda, salt, and spices in a large bowl and blend well. Add the butter and blend with your fingers until incorporated and only small bits of butter remain. Separately combine the pumpkin and ¾ cup of milk, and add to the dry ingredients and blend just until a moist dough is formed (add additional milk if dough is too stiff).
Turn the dough out onto a lightly floured surface, patting evenly ½" in thickness. Using a floured biscuit cutter (approx. 1 ½" in diameter – or any size preferred) cut the dough into biscuits and arrange on an ungreased baking sheet in rows, slightly touching each other. Scraps can be gently re-rolled and cut however be careful about overworking the dough. Brush top of biscuits with melted butter and sprinkle generously with cinnamon-sugar.
Note: the biscuits can be prepared to this point and frozen.
Bake for 12-14 minutes or just until the center is no longer wet and is cooked through (note: frozen biscuits should be baked frozen rather than thawed, and allow 2-3 minutes longer baking time).
Variations: Golden raisins, dried cranberries, or nuts would be a nice addition.
ROASTED PUMPKIN & APPLE SOUP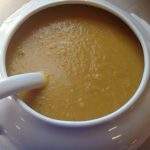 Yield: 2 ½ quarts (about 6 servings)
Ingredients:
Two 2 ½ lb. Parlee Farms sugar pumpkins (or 1 lg. butternut squash)
2 Tbl. vegetable oil
½ small onion, chopped
4 tart apples, peeled and cubed
2 c. chicken stock
2 c. water
2 Tbl. light brown sugar
½ ground nutmeg
Pinch cinnamon
½ tsp. salt, black pepper to taste
¼ c. light cream
Preheat the oven to 350. Wash the pumpkins and remove the stems. Cut pumpkins in half, remove the flesh and seeds (save for toasting later!), and place cut side down on a lightly oiled baking sheet. Roast pumpkins for 45-50 minutes or until tender when pierced with a knife. Remove from the oven and allow them to cool a bit before scraping pumpkin solids out of the skins….you should end up with about 6 cups of flesh.
In a large heavy pot heat the oil and cook the onion until translucent – 2-3 minutes. Add the apples, pumpkin, chicken stock, water, sugar and seasonings. Bring this mixture to a simmer, half cover the pot and cook until apples are tender…..15-20 minutes, stirring occasionally. Working in batches, carefully puree the mixture until completely smooth. Add the pureed soup back to a clean pot along with the light cream and enough water to get a smooth bisque consistency (approx. 1 cup or more). Heat soup gently over low heat, partially covered, until hot throughout. Taste for seasoning and adjust if necessary. Serve garnished with a small pinch of nutmeg on top.
SAGE-ROASTED VEGETABLE & QUINOA SALAD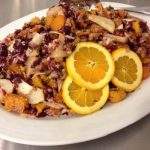 Yield: 5-6 servings
Salad Ingredients:
5 c. mixed seasonal vegetables, cut into ½" thick slices (carrots, parsnip, butternut, beets, turnips, rutabagas)
½ large onion, thinly sliced
2 Tbl. fresh chopped sage
3-4 Tbl. extra-virgin olive oil
Kosher salt, cracked black pepper to taste
½ c. quinoa
1 c. water
1 c. shredded radicchio (approx. ½ head)
Cranberry Dressing:
½ c. whole-berry cranberry sauce
Zest & juice from ½ orange
1 Tbl. red wine vinegar
1 tsp. honey
1/3 c. walnut or vegetable oil, or a blend of both
Kosher salt, cracked black pepper to taste
Preheat the oven to 450. Combine the mixed vegetables, onion, sage, olive oil, salt and pepper together on a large baking sheet and toss well to blend everything. Roast for 25-30 minutes or until vegetables are tender and lightly brown. Remove from the oven and allow them to cool.
Meanwhile combine the quinoa and water together in a small saucepan and bring to a boil. Reduce heat and simmer covered for 10-12 minutes, or just until quinoa is tender but still chewy (small white rings will appear on the edges of the grains). Uncover and cool.
In a small bowl whisk together the dressing ingredients and taste for seasoning. To serve the salad combine the radicchio, roasted vegetable mixture, and quinoa in a large bowl – gently tossing all together. Transfer the salad to a platter or shallow bowl and spoon the cranberry dressing over the top.
Optional: Add toasted walnuts, almonds, or pecans
CRANBERRY-POMEGRANATE RELISH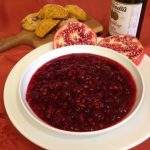 Yield: 2 cups
Ingredients:
¾ c. pomegranate juice
¾ c. sugar (or more to suit taste)
1 ½ c. fresh whole cranberries (about ½ of a 12 oz. bag)
Seeds from half a fresh pomegranate*
In a small saucepan combine the pomegranate juice and sugar and bring to a simmer over medium heat. Add the cranberries and pomegranate seeds and continue to simmer the mixture over low heat for 15-20 minutes or until the cranberries have burst and the mixture has thickened (it will also thicken more as it cools). Note: this sauce can be made at least one week in advance and freezes well.
*The easiest way to remove seeds from pomegranate is to submerge the pieces in a deep bowl of water and use your fingers to separate the seeds from the white pith. As the seeds separate they will sink to the bottom and the flesh will float to the top to be discarded.
Variations: Other delicious additions include orange zest, cinnamon stick, diced apples or pears, or a ½ cup of sparkling cider or champagne added during the last 5 minutes of cooking.
COUNTRY-STYLE SAUSAGE & APPLE STUFFING
Yield: 8 servings (enough for a 12 lb. turkey)
Ingredients:
8 c. dry bread cubes*
1 lb. bulk sweet Italian sausage (or use links squished out of casings)
4 Tbl. (1/2 stick) unsalted butter
1 onion, chopped
3 stalks celery, thinly sliced
¼ c. fresh chopped parsley (or 1 Tbl. dried)
1 Tbl. fresh chopped sage leaves (or 1 tsp. dried)
½ tsp. thyme leaves (or pinch dried)
Cracked black pepper, to taste
2 lg. Parlee Farms apples, peeled and chopped
½-1 c. chicken stock, or more as needed
*Begin by preparing the bread cubes. Cut or tear bread of choice into 1" pieces and place on a large baking sheet. Bake at 250 for 20-25 minutes, tossing occasionally, until dried out a bit but not crispy (bread can also be air-dried overnight on a cookie sheet to stale). Allow bread to cool and transfer to a large bowl.
Heat a large heavy skillet over medium-high heat. Add the sausage and cook until it begins to brown, 7-8 minutes, breaking up the meat as much as possible. Add the butter along with onion, celery, herbs, and black pepper and cook until the veggies are tender and sausage is fully cooked, approx. 10 minutes. Remove from the heat and add the sausage mixture to the bread cubes along with the chopped apples, tossing gently to incorporate everything. Allow the mixture to sit for 10-15 minutes for bread to absorb the juices, before adding chicken stock as needed just to moisten (the stuffing should not be wet and soggy….it will pick up additional moisture from inside the turkey). Allow the stuffing to cool completely and refrigerate until ready to use. Note: this can be prepared to this point and refrigerated for up to 3 days or frozen.
This stuffing can go inside a turkey or chicken or can be baked separately in a shallow buttered casserole dish at 350 for 40-45 minutes. Cover with tinfoil for the first 25 minutes of cooking and then uncover to allow the top to get brown and crusty.
Variations: Mushrooms, nuts, & dried cranberries would all be good additions.
Categorized in: Recipes
This post was written by Parlee Farms