5 Unique Ideas for Your Peaches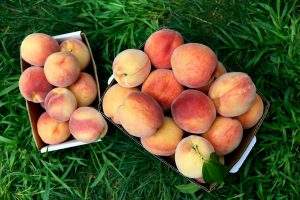 It's the peak of summer and peaches are in season! While we love biting into a fresh, juicy peach, it's also fun to cook with them. After you come to Parlee Farms to pick your own, you can will no doubt want to find ways to enjoy them. Here are some of our favorite ideas:
Make a Peach Cocktail
Peel your peaches and remove the pits. Coarsely chop the fruit and place it in a blender or food processor with 1 tablespoon sugar or honey and blend until smooth. You can use this peach puree in a variety of ways to make a quick cocktail. Here are some ideas:
Peach Bellini. Place a teaspoon or two of peach puree in a champagne flute and top with Champagne or Prosecco.
Peach Rum Punch. Add 1 cup chopped or slicked frozen or fresh peaches to a pitcher. Top with 1 cup light rum, 1 cup peach nectar, 1 cup pineapple juice, a few tablespoons of peach puree, and a splash of orange soda. Stir gently with a wooden spoon and top with a scoop of ice cubes.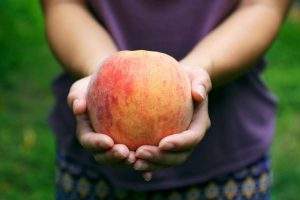 Include Peaches in Salads
Did you know that freshly slicked peaches make a great addition to any salad? Here are some salad combinations that taste great with peaches.
Arugula, cucumbers, sliced peaches, feta cheese, Italian dressing
Spinach, tomatoes, creamy goat cheese, chopped peaches, balsamic vinaigrette
Romaine lettuce, Caesar dressing, croutons, chopped peaches
Make a Peach Dessert Sauce
You can use this peach dessert sauce over a variety of foods. Try it on ice cream, cake, yogurt, and with fresh fruit. Here's a quick recipe for how to make it:
Prep 4 peaches by peeling them, removing the pits, and slicing them into 8ths or coarsely shopping.
Add the peaches to a saucepan and cover the bottom of the pan with an inch of water.
Cover the pan, bring to a boil on medium-high, and then simmer them for 20 minutes.
Transfer the peaches, with the juices, to a food processor. Add 1/2 cup granulated sugar and the juice 1 lemon. Pulse until smooth. Use right away or pour into a jar and refrigerate for up to a week.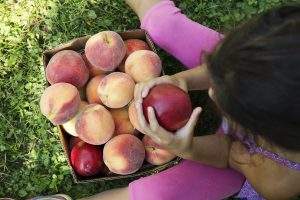 Enjoy a Fresh Peach Salsa
Peach salsa is a tasty treat and a nice alternative to tomato-based salsas. Serve with tortilla chips, eat with Mexican food, or use it to top grilled meat. Basically, you can use it any way you typically use other salsas. If you don't want to make your own, you can always buy it in our farm stand. Here's a quick recipe:
Coarsely chop two peaches, one tomato, a bell pepper, and an onion. Slice a jalapeño pepper in half and remove most of the seeds. Chop that, as well.
Add chopped peaches, tomato, bell pepper, onion, and jalapeño to a food processor along with 1/2 cup fresh cilantro and some salt and pepper.
Pulse until your desired texture is achieved.
Cover and refrigerate 30 minutes – 1 hour before serving so that all the flavors can meld together.
Add to Yogurt or Ice Cream
Peaches taste great when mixed with yogurt or ice cream. Here are some fun ways you can use them:
Chop fresh peaches and sprinkle them on top of your yogurt or ice cream. Add a sprinkle of sugar to the peaches before you do to give them some extra sweetness.
Top ice cream or yogurt with the peach dessert sauce mentioned above.
Make an ice cream sundae using peaches. Top ice cream with a dessert sauce, chopped peaches, nuts, whipped cream, and a cherry!
Be sure to stop in at Parlee Farms to get some fresh pree picked peaches or pick your own. You can also explore what else our farm has to offer, grab a bite to eat, visit our farm store, and more. Always check our website before coming to make sure we have peaches available.
Categorized in: Peaches
This post was written by Parlee Farms