Strawberry Recipes to Try with Local Strawberries!
If you aren't sure what to do with all of the strawberries that you pick, look no further than these recipes provided by Carolyn's Farm Kitchen (http://www.carolynsfarmkitchen.com/)!
BAKED CHEVRE & STRAWBERRY SALAD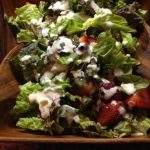 Yield: 4 main course or 8 starter salads
Ingredients:
8 oz. local chevre, sliced into ½" thick rounds
1 ½ tsp. herbs de Provence (or 2 Tbl. mixed chopped fresh herbs such as oregano, rosemary, basil, thyme, tarragon)
Kosher salt, cracked black pepper to taste
½ c. extra-virgin olive oil
1 c. fresh bread crumbs*
1 Tbl. red wine vinegar
8 c. loosely packed mixed greens
1 Quart Parlee Farms Strawberries, halved or quartered depending on size
Optional: Toasted almonds
Place the goat cheese rounds in a shallow baking dish and sprinkle with the herbs and salt and pepper to taste. Pour over the olive oil and gently turn the rounds to coat completely. Cover and allow the cheese to marinate in the refrigerator for at least 2 hours and preferably overnight.
Preheat the oven to 450. Carefully remove the cheese rounds from the marinade (reserving the marinade) and dip each piece in the bread crumbs, coating thoroughly and pressing gently to make the crumbs adhere. Place the rounds on a baking sheet and refrigerate for at least 15 minutes or longer. Just before serving bake the cheese for 10-12 minutes or until the crumbs are golden brown.
Meanwhile whisk the red wine vinegar into the remaining marinade and season with salt and pepper to taste. Toss the greens and half of the strawberries gently with the dressing and arrange on individual plates or a platter. Place the baked chevre around the greens, garnish with the rest of the strawberries and serve immediately.
**Homemade Bread Crumbs:
This is a great way to use up leftover stale or frozen bread. Tear bread into large pieces and pulse in a food processor until desired consistency of bread crumbs. Crumbs can be stored in large Ziploc bags in the freezer until ready to use.
SKILLET STRAWBERRY SHORTCAKE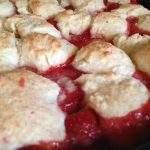 Yield: Approx. 8 servings
Fruit:
8 c. washed, hulled, halved Parlee Farms Strawberries (about 2 ½ -3 quarts)
*If berries are small leave them whole
½ c. sugar
3 Tbl. cornstarch
Topping:
1/3 c. unsalted farm butter, at room temperature
1/3 c. sugar
1 large farm egg
1 ¾ c. flour
2 tsp. baking powder
½ tsp. salt
½ c. + 2 Tbl. whole farm milk, plus extra for the top
Whipped Cream:
1 c. farm heavy cream, well chilled
½ tsp. vanilla
3 Tbl. confectioner's sugar
Preheat the oven to 350. Toss the berries, ½ cup sugar, and cornstarch together in a bowl until everything is distributed and pour this mixture evenly into a 12" round skillet (can also use a ceramic baking dish approx. 9×13" in size).
Using a mixer blend together the butter and 1/3 cup sugar until incorporated. Add the egg and continue mixing until light and fluffy. In a separate bowl combine the flour, baking powder, and salt, adding this to the mixture alternately with the milk, blending just until a batter is formed. Pinch off pieces of batter (about 1 Tbl. in size), and drop them onto the berry mixture randomly, leaving little 'windows' to still see the berries below. Lightly brush the top of the dough pieces with milk and bake the shortcake for 35-40 minutes, or until the fruit is bubbly all over and the biscuit pieces in the center are cooked through (cheat by checking underneath one!). Serve the shortcake warm or at room temperature with fresh whipped cream.
To make fresh whipped cream……add the cream to a chilled bowl and whip with an electric mixer just until it begins to thicken. Add the vanilla and confectioner's sugar and continue to whip until semi-stiff peaks form. Keep chilled until ready to use (up to 8 hours).
Variations: Try this recipe with other berries, peaches, plums, apricots, apples, etc.
SWEET CHERRY & CHOCOLATE CHUNK SCONES
Yield: Approx. 8-10 large scones
Ingredients:
3 c. all-purpose flour
1/3 c. sugar
2 ½ tsp. baking powder
½ tsp. baking soda
¾ tsp. salt
¾ c. (1 ½ sticks) cold unsalted butter, cut into pieces
1 ¼ c. buttermilk or whole milk
1 ½ c. pitted sweet Parlee Farms Cherries, halved or coarsely chopped
¾ c. semi-sweet chocolate chunks
Preheat the oven to 375. Combine the dry ingredients in a large mixing bowl and blend briefly. Add the butter and begin "cutting" it in using your fingers or a pastry cutter. Continue blending the dry mixture until the butter is fully incorporated and there are no large pieces remaining. Add the milk and stir just until the wet and dry ingredients are almost blended. Gently fold in the cherries and chocolate chunks until incorporated.
Turn this dough onto a lightly floured surface and press it gently into a large round circle approx. 1" in thickness. With a sharp knife cut the scones into 8-10 even wedges and place on a baking sheet lined with parchment. Bake for approx. 12-15 minutes or just until the center is cooked through.
OTHER FUN WAYS TO USE YOUR PARLEE FARMS STRAWBERRIES: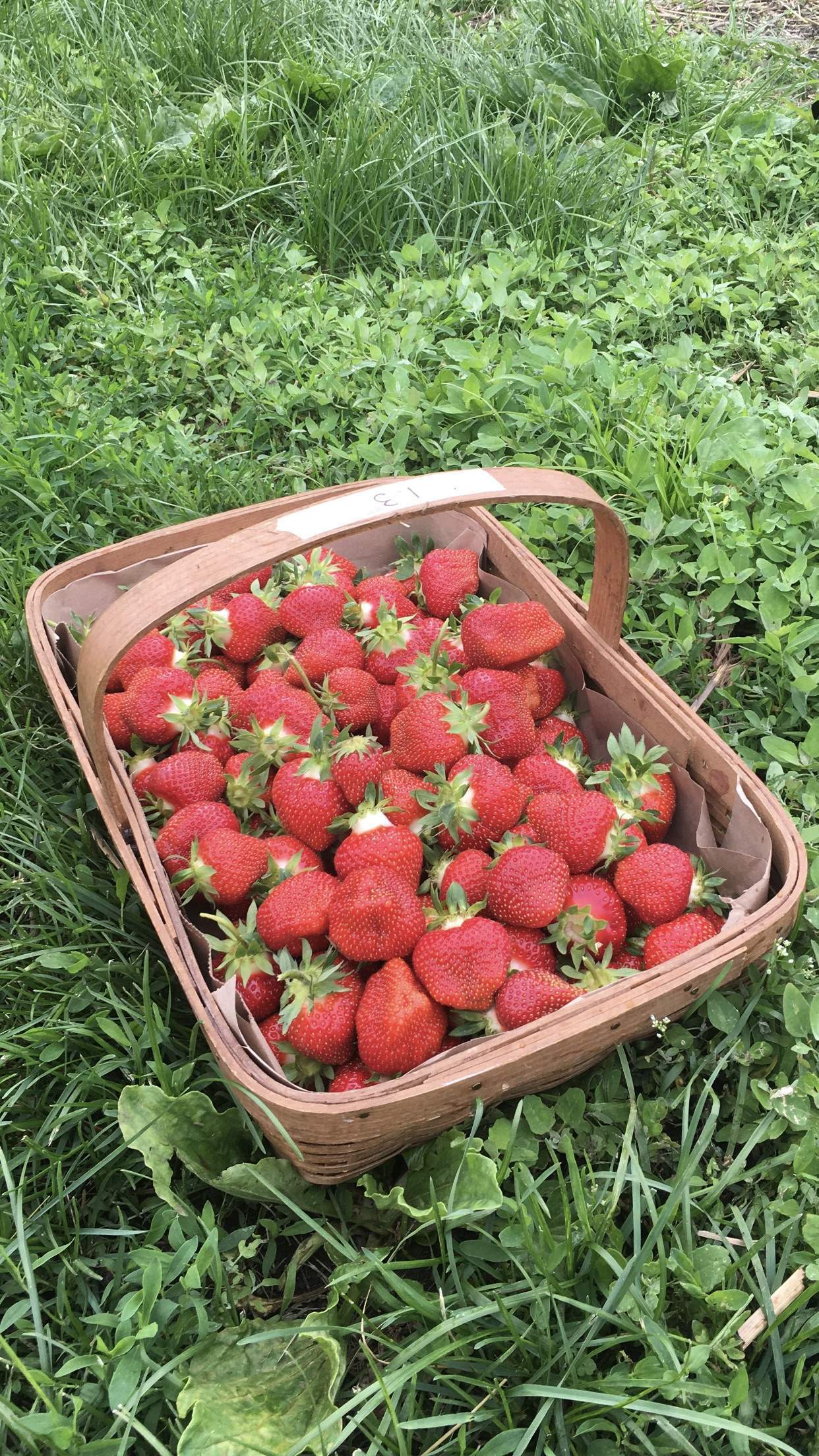 – Simmer whole berries with a small amount of sugar and balsamic vinegar until mixture is reduced to a thickened syrup. Delicious spooned over soft cheese, ice cream, or pound cake for trifle. Store extra in the refrigerator for up to one week.
– Whip room temperature unsalted butter until light & fluffy. Add chopped, drained berries and a drizzle of honey and blend this into the butter but leave visible chunks of fruit. Use this strawberry butter on waffles, pancakes, or bread at the dinner table. (strawberry cream cheese can also be made this way for bagels!).
– Create simple summer entrée salads with marinated grilled foods such as chicken, shrimp, or pork tossed with fresh greens and a light dressing, sweet strawberries, shaved red onion, and any other favorite additions.
– For your next party make refreshing strawberry Belinis by adding a few crushed berries (and juices!) to the bottom of champagne flutes. Top with chilled Prosecco and enjoy.
– Take advantage of this wonderful season and pick extra berries for later. Wash, hull, and freeze berries whole in a single layer on a baking sheet. Once frozen, transfer the berries to large storage bags and store in the freezer for winter baking! Delicious in crisps, cobblers, oatmeal, muffins, etc.
Sure, strawberries taste delicious on their own, but it's also fun to include them in your favorite recipes. If you enjoyed these recipes, check out these articles for more ideas:
Categorized in: Recipes
This post was written by Parlee Farms