Fun Things to Do With Fresh Pumpkins
Fall is officially underway which means that perfect round, bright orange pumpkins are available for picking from the pumpkin patch. Picking out the perfect pumpkin (or pumpkins!) for your family is a fun event in itself. But what do you plan to do with them once you get them home? Here are some fun ideas for ways you can use your freshly picked pumpkins!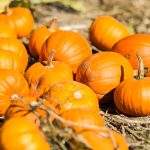 Carve Your Pumpkin
A favorite family Halloween activity is turning a pumpkin into a jack-o-lantern. Create your own designs or if you aren't too artistic, you can buy pumpkin carving kits. You can also use cookie cutters as a guide to cut different shapes into the pumpkin. Don't be afraid to use your creativity, but if small children are involved with the project, it is best to have an adult do the cutting. Here are some of our top carving tips.
Paint the Pumpkin
Pumpkin painting is often a safer option than carving for the little ones that aren't ready to use a knife to cut a pumpkin. Painting can be just as fun! In addition to paint, you can use other arts and crafts supplies to dress up the pumpkins. This is a great activity to do with people of all ages, but since it is so safe it is especially suited for smaller children.
Cook Delicious Pumpkin Treats
Fall also means delicious pumpkin recipes! There's pumpkin pie, pumpkin bread, pumpkin soup, and more. Yum! Why not bake something from scratch this year? Pumpkin tastes delicious in a variety of recipes, both savory and sweet. Here is an article with some of our favorite ways to cook with your fresh pumpkins.
Decorate Your Home 
If you're feeling festive, pumpkins make great fall decorations both inside and outside of the home. Outside, people will often pair them with scarecrows, haystacks, and decorative corn stalks to create that perfect fall look. Pumpkins also make great centerpieces and they also look great when displayed throughout the home. Here are some of our top fall decorating ideas, and many of our suggestions involve pumpkins. 
Create Gorgeous Centerpieces 
Are you hosting a wedding, dinner party, Thanksgiving dinner, or another event in the fall? Carved pumpkins filled with assorted fall flowers make the perfect centerpiece! They look great when paired with tea lights and other decorative items for fall.
Make Beautiful Place Settings
Mini-pumpkins make a great place setting accessory at fall events and attendees can take them home to enjoy! Pumpkins can also be used instead of a seating card at a fall-inspired event, such as a wedding. Simply write each guest's name on a pumpkin with their table number. You can also paint the pumpkins to make them stand out, or use them as-is since pumpkins are gorgeous on their own.
Pumpkin season is in full swing in New England. Parlee Farms grows over 40,000 pumpkins of all shapes, colors, and sizes so we know you will be able to find that perfect pumpkin in our Pumpkin Patch. Hope you get a chance to visit your favorite Pumpkin Patch soon!
Categorized in: Pumpkins
This post was written by Parlee Farms