Pumpkin Carving Tips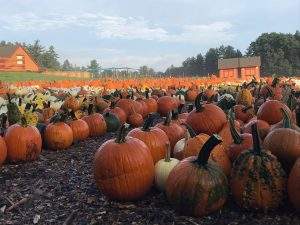 Once you buy your pumpkins at Parlee Farms, you no doubt will be excited to use them! Sure, there are some delicious ways you can cook with pumpkins. However, that's not all you can do! One of the best ways to use them is to carve them and put them on display. This is a festive activity for the whole family, especially around Halloween! Here are some tips that will help you carve the best pumpkins:
Use a Sharp Carving Knife
Your success with carving the pumpkins is to use a sharp knife meant for carving. The goal is to find a knife that will easily cut into the flesh. If it's as sharp as it can be, you minimize the risk of it slipping. Be sure to carve away from your body and make sure your fingers and other body parts are well out of the way of the knife. That way, if the knife slips, no one will get hurt. If you have small children who will be helping you, make sure that they aren't near you while using the knife so they don't get hurt.
Cut the Top First
When you cut across the top of the pumpkin, make sure you do it in a way that will allow you to place it back on when you're done! You also want to leave enough space for you to reach your hand or a large spoon into the pumpkin so that you can easily remove the inner flesh and seeds. Cut in a circular motion around the stem and set it aside while you scoop the rest of the innards out.
Draw the Design
Before cutting out the design, you need to have a plan. Draw the design on the pumpkin with a pencil before you start cutting so that you can get it perfect before you begin to cut! If you don't have artistic ability, you can even buy stencils. There are some nice pumpkin carving tips that you can buy that have some great pumpkin designs. Once you sketch out the design, you're ready to cut!
Store the Pumpkin
Once you do carve the pumpkin, you'll want to store it so that it lasts. Just make sure the pumpkin stays cool. Hot days can cause the pumpkin to decay faster. Repeat exposure to frost can also harm the pumpkin. Cover the pumpkin at night with a cloth or bring it inside if there will be frost in the forecast. Your carved pumpkin should last several weeks if it is stored right.
Roast the Pumpkin Seeds
Once you remove the inner flesh of the pumpkin, consider roasting the seeds! Separate the seeds from the rest of the flesh and place them in a colander. Rinse them well to remove any pumpkin flesh. Let the seeds air dry after wishing or pat dry with paper towels. Toss the seeds with oil and place them in a single layer on a baking sheet. Sprinkle with salt. Let them roast in an oven that has been set at 300 Degrees Fahrenheit until they turn a light, golden color. This should take about 45 minutes but keep watching them because once they start to brown they cook pretty fast. If you cook them at a higher temperature, they won't get as crunchy! Remove from oven, let cool slightly, and enjoy!
We grow so many great carving pumpkins and we hope you got the perfect one for your doorstep! Visit this article to learn about the varieties that we grow. Also, stop in on Parlee Farms to enjoy everything the season has to offer and to get some fresh pumpkins!
Categorized in: Pumpkins
This post was written by Parlee Farms